Training Helps Set the Global Context on Quality and Accountability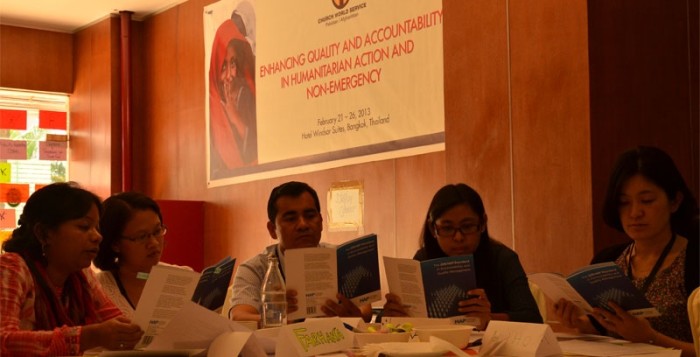 CWS-P/A held the first joint standards training, 'Enhancing Quality and Accountability in Humanitarian Action and Non-Emergency' in Asia from February 21 -26, 2013. Twenty-eight participants representing nineteen organizations from ten countries attended six days of training in Bangkok, Thailand. The training was designed and facilitated by Sylvie Robert and co-facilitated by CWS-P/A's team member, Rizwan Iqbal. As many as twenty quality and accountability initiatives were introduced to participants which helped them understand the significance of linkages between various standards. With over seventy available standards and increasing pressure on agencies to adopt these standards, the training provided an opportunity to identify key quality and accountability initiatives. Participants were able to select existing quality and accountability tools unique to their context and with available resources to overcome challenges. The training also assisted participants with opportunities to collaborate and coordinate with other agencies to improve quality and accountability in humanitarian response. This was achieved through various participatory learning and sharing methods and a resource kit for each participant helped enable analysis of existing tools with fieldwork.
Participants also benefited from a panel discussion that took place during the training with guest speakers from the humanitarian community. The panelists included David Verboom (European Commission for Humanitarian Aid), Souleyman Sow (CARE), Anoop Sukumaran (Asia Pacific Refugee Rights Network), and Alan Dwyer and Erin Mcgee (USAID/OFDA).
More importantly, the panelists were in agreement of quality and accountability initiatives, while the needs to self regulate and remain accountable to communities was emphasized. Other aspects highlighted during the discussion included the focus on common tools and developing capacities.
A focus group discussion regarding joint standards was held during the training. Participants suggested that while the community must benefit from the knowledge of these standards, donor sensitization was important. Additionally, the need to train field staff, implementing partners, and in some cases government officials was emphasized. Suggestions for a system of joint evaluation with mixed responses to internal and external evaluation were received. Overall, participants agreed that compliance must be made mandatory and that future needs for joint standards must be contextualized.
As the training continued, participants worked in pairs to share their knowledge with others on existing quality and accountability tools. This methodology allowed for creative learning and sharing. Through a group activity, the participants identified the implementation of quality and accountability initiatives by sharing examples from the field. Fourteen working groups were formed after a brainstorming session through which thematic areas, issues, and challenges were identified. The groups worked on thematic areas of their choice and developed short papers highlighting existing good practices, challenges, current initiatives, and recommendations to stakeholders and quality and accountability initiatives.
The papers were then exhibited at a 'share fair' event. Forty-six guests from the humanitarian community were welcomed as participants held round table exhibitions of their work relating to quality and accountability initiatives and their papers.
As the training concluded, participants stressed the need to improve quality for beneficiaries, capacity building at all levels, and the integration of communities into quality and accountability initiatives. Their recommendations for donor sensitization, standardization, language consistency, and better links to all initiatives with regards to the Code of Conduct were among many of the topics that were discussed.
Participants were also encouraged to collaborate with other agencies to improve quality and accountability in humanitarian action and agreed to seek future coordination, information, ideas, and other requirements.