The First Political Education Training Camp Held in Afghanistan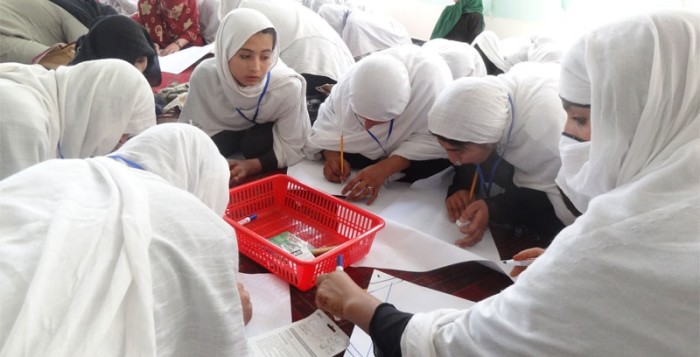 CWS-P/A recently expanded its eight-year political education project to Afghanistan. The project originated in Sindh Province, Pakistan and over the years has worked to increase the knowledge of communities on human and child rights, state and democracy, elections, and gender. In early April, fifty students and ten teachers representing five schools attended the first camp in Afghanistan, which included various activities including role-plays, group work, and presentations among others.
The project's expansion into Afghanistan demonstrates continuous efforts to raise more awareness after its successful implementation in Pakistan. Facilitator, Ali Moazzam, shared that he had been eager about conducting the training camps in Afghanistan and admired the responsiveness of the students. By including teachers in the camp, CWS-P/A establishes a foundation for continued learning and greater awareness for the broader student population within the schools.
In 2010, CWS-P/A introduced the first summer camp for participants from Punjab Province. Two years later, the expansion to Afghanistan indicates the interest as well as need for political education. The project's rapid expansion and development within Pakistan and Afghanistan also demonstrates its acceptance within communities as highlighted by staff members.
Through a recently conducted impact study session for the project in Mirpurkhas District, Sindh, participants who attended the camp during the initial years shared how they put the learning into practice. By becoming actively involved in working for the rights of others, participants also shared their increased confidence as an important aspect of the trainings. In discussion with Rajesh Kumar who attended the summer camp in 2003, he shared his participation to help citizens voice their concerns. He is a member of a group called, 'Voice of New Generation.' The group functions as an advocacy and networking platform for youth. For the past few years, Rajesh is a master trainer for the group. Realizing the need for policy for the benefits and rights of youth at the provincial level, Rajesh shared that the group has also been working for 'Schedule Caste Rights Movement.' He added that its function is to help members of the minority Hindu community with marriage registrations and its establishment will be sent to the National Assembly for approval.
Moreover, the project has strengthened and created a platform for marginalized groups to understand their rights and roles within society. Students are equipped with knowledge, skills, and confidence to foster change within Pakistan and Afghanistan. Based on success of the earlier efforts in Pakistan and the acceptance displayed during the camp in Afghanistan, it is anticipated that future efforts to impart political education in Afghanistan will have similar success rates. An informed generation that is conscious of its political and social rights and responsibilities will be better prepared to act upon them.