Surviving the Worst of Times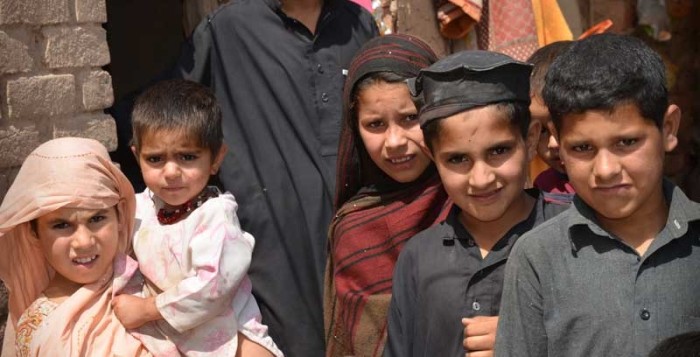 "Home is where our life is, and this is no home for us."
(Dur Bibi, Bara District)
Dur Bibi, a woman in her 50s, is residing in a small 5 bedroom, mud house in Bader Kaley District of Peshawar, approximately 20 km from west Bader Kaley, Khyber Agency. With just the clothes that she wore, Dur Bibi along with her family fled from their conflict stricken homeland in early February this year. Their house in Bara, north of Khyber, was destroyed and their livestock slaughtered by the militants operating in the region. Living in a household comprised of 3 families, Dur Bibi and her ailing husband, head this nineteen member household with much vigor and unscratched resilience.
Upon reaching Peshawar three months ago, the family first rented a three bedroom house, intending to quickly find one in better condition. With the high rents in the city and unemployment of the male family members, they realized they would have to settle for whatever they could find. This led them to their current residence. Although this house, Dur bibi clarified, is much better and bigger in size than the previous one, it has one latrine to be shared by the entire household, no water supply, low electricity supply, and leaky roofs. "Every time it rains, our rooms are flooded with water," Hajj Bibi, her daughter-in-law said.
"Our only source of clean water is a water tank five minutes from here, which the children fetch water from." Keeping in mind that this family owned and lived in a much larger brick house, with agricultural land for crop yield and farming animals that provided them milk and eggs, it is not easy for them to settle into their current living conditions. Dur Bibi's son and her nephews also earned a monthly income from working at plastic bag factories in Bara which provided them a comfortable living. The younger boys in the family attended school regularly, and the family could afford to send them to private schools after the Government schools in Bara were destroyed by the militia.
In a desperate attempt to make ends meet, the three income bearers of the house have started daily labor at a wage of Rs.150-200 per day. Most of this money earned is spent in paying the monthly expense of Rs 4,000 (USD 44) for rent and Rs 500 (USD 5.5) gas rent for their house. Hajj Bibi said that the family also ends up spending up to Rs 500 (USD 5.5) for doctor's fees and medicine bills as often as every second week because the children frequently fall ill since they relocated to Peshawar. Therefore, a very small sum of money is left for household expenditure. The family consumes wheat, vegetables, and tea on a daily basis. "We're always eating potatoes," Hajj Bibi laughed honestly. They can afford to eat one chapatti (Pakistani flat bread) per person per meal in these conditions which is insufficient. She openly discussed that they cannot afford to buy meat and milk products that were easily available to them from their own livestock before their displacement.
When asked about being registered at Jalozai Camp and receiving food rations from the camp, all women of the house answered instantaneously, "Yes, we are registered, but we will never go there to receive those food packets due to our husband's honor and our pardah (concealment of women from men)." The women shared that their husbands went once to receive the food ration but the process took multiple days to receive one package. They will not go again. Hajj Bibi continued, "We would rather survive on little resources than to be dishonored by going there." The women of the family have put their husbands and children's needs before theirs; they feel they will survive this difficult time with what God gives them.
The eleven children of the household were all dressed in stained and graying clothes, and it seemed they had not touched clean water for days. One of Dur Bibi's grandsons was suffering from shivers and his eyesight had been weakened due to the blinding lights of the constant firing and explosions during the conflict in Bara. Hajj Bibi's one year old son was suffering from malaria. The children in the house no longer go to school. The boredom from inactivity also plagues the children who just wish to return home soon.
Dur Bibi and her daughters-in-law recognized their greatest needs besides food as fans, cooking utensils-as they were all sharing just 8 pieces, and medical assistance for the children. Dur Bibi added, "Nobody wishes to live in a house like this, pointing at the leaky ceiling, but we are content with what God is giving us, and we pray that we can return to our home soon." With so much lost and little left, Dur Bibi spoke with a smiling face and such candidness that it would heighten anyone's dying spirits.
This is a story of just one household, but there are countless more heart-wrenching stories of families displaced from Khyber Agency, living off-camp in various parts of Peshawar and other areas of Khyber Pakhtunkhwa.