Striving for quality and equality in education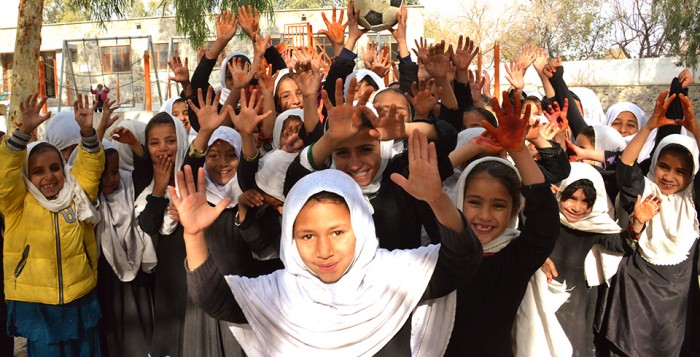 Community World Service Asia works with a number of schools in the provinces of Nangarhar and Laghman to support girls' education. 

Community World Service Asia is supporting the right of young children to play sports by providing sports equipment to partner schools. Without equipment at school or at home, these girls have never been able to play sports before. 

At school, girls are not only able to study but participate in extra curricular activities and sports as well.

Students use cheap and locally available material such as beads to develop practical skills such as counting.

A student shows a multiplication problem that she has learnt to solve.

Teachers encourage practical exercises in class along with lectures so that students learn and understand mathematical concepts easily. 

Girls who would otherwise be involved in household chores learn to read and write.

Creating child centered classrooms builds the confidence of students and helps them learn in an interesting and effective manner.

Community World Service Asia works to build the skills of teachers, equipping them with new and innovative techniques to deliver engaging lessons. 

Community World Service Asia has established five Teachers' Resource Centers to provide teachers with materials to help them deliver classes like Science effectively.  Subject-based trainings also support the improvement of teaching for these technical subjects.
Community World Service Asia is working to promote and improve education for girls in Afghanistan. Our initiatives aim to support and encourage the enrolment of female students in schools, whilst also building the capacity of teachers so that the quality of education is enhanced.  We also provide school kits, build playgrounds and distribute sports equipment so that students have the chance to learn and play. We work with teachers to address gaps in civic education so that students become more aware and empowered, and are able to become active and engaged citizens.
Co-curricular activities, such as summer camps and life skills classes, support the students to build confidence and learn new and relevant topics.