South Asian NGO Managers Tackle Security Risks in CWS-P/A Workshop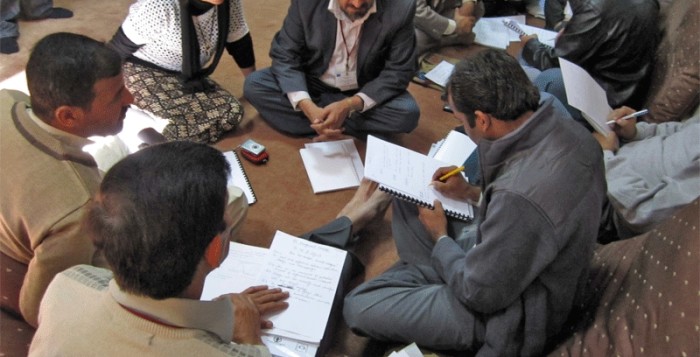 When the armed bodyguards of a local politician approached Zahid Ali – a relief manager for an NGO based in Sindh, Pakistan – he had no idea that this was the beginning of what was to be a very difficult day. As the men walked up, Ali was in the midst of preparing a distribution at a school to assist families with much-needed food in the aftermath of the 2010 Pakistan floods.
The men quickly demanded that Ali's organization, the Participatory Village Development Program (PVDP), hand over their food packages so that this local politician could distribute the food and take the credit. Ali and his colleagues refused to do so, and an additional entourage of 100 to 150 armed men surrounded the school and held the PVDP staff hostage. "They said: 'We can't let you go until you give your food items to us,'" he recalls.
Ali recently participated in a week-long workshop on security and risk management for NGO managers. The workshop, which was targeted for humanitarian organizations operating in Pakistan and Afghanistan, is part of a larger regional risk management initiative by Church World Service-Pakistan/Afghanistan in partnership with fellow ACT Alliance member, DanChurchAid, and with support from the European Commission's Humanitarian Aid department (ECHO).
"In response to the growing and changing nature of threats to humanitarian groups across Asia and the Pacific – particularly local organizations – we want to increase the capacity of the humanitarian community in the region to assess and manage the risks of their environments," says Kathrine Alexandrowiz, the coordinator of the regional risk management project.
"Due to the intensity of the situation and in some cases targeting of aid workers – especially nationals – NGOs have to mainstream security management throughout their structures to be able to deliver the much-needed assistance to beneficiaries and to maintain their own safety and security," says Paul Wooster, the facilitator for the training component of the regional initiative.
Wooster, who is also carrying out workshops in Thailand, Sri Lanka, and Indonesia, says that the Pakistan and Afghanistan context is particularly challenging due to the presence of international forces and the shrinking humanitarian space for aid groups. "NGOs face a range of threats including kidnapping, improvised explosive devices, direct threats to organizations and individuals, and suicide attacks," he adds.
One of the key aims of the regional risk management initiative is to strengthen local organizations to better manage and respond to the risks that they face. Ali describes the difficult challenges that smaller groups can face when resources are minimal.
"Currently I am working three positions – a civil engineer, a regional manager, and as a relief coordinator in one of our districts," Ali notes, adding that this kind of stretching of capacity can mean that security management does not receive the attention it sometimes needs. He says that he is very grateful that the workshop was financially accessible to his organization – and that his organization was able make it a priority by sending him and a colleague for the weeklong training.
Wooster stresses that the course is not about personal security for aid workers, but is about empowering NGO managers to develop better systems for assessing, mitigating, and addressing threats to security and safety that impact an entire organization. "NGOs don't only need staff to have better personal security knowledge, but equally important is a security management framework that informs every aspect of organizational decision making," he says. "Security affects everything about how an organization works – what we do, how we do it, where we do it, and when we do it."
The workshops train NGO staff to interpret and utilize different strategies for addressing risk – acceptance, protection, and deterrence – and how these strategies can fit within the vision, mission, and identity of individual organizations. The most recent workshop, held in Murree, Pakistan, included 34 participants from international and national NGOs including the Agha Khan University and Hospital, Concern Worldwide, the International Federation of the Red Cross and Red Crescent Societies, Norwegian Church Aid, Participatory Village Development Program (PVDP), Punjab Rural Support Program (PRSP), and Save the Children.
"Participants came with a great desire to learn and share their own experiences to such an extent that the Afghan and Pakistan context was covered in great depth, and this kind of group analysis will benefit those individuals and their organisations as they take this shared knowledge back to their everyday work," says Wooster.
"Everything I am learning is new material – risks, threats, strategic planning, risk analysis. In the context of my organization, this is the first kind of training that we have participated in," says Ali from PVDP. "I would like to bring this back to my office and colleagues and arrange a session to explain what I have learned here." He adds that this new knowledge will take time to mainstream across his organization, but that he has his management's support to do so, particularly as their level of risk has increased as they respond to the massive floods.
While the hostage situation that Ali and his colleagues found themselves in was several weeks before the workshop, the training reaffirmed the actions that Ali took to bring a peaceful end to the incident. One of the topics covered was utilizing "diplomatic pressure" as a means to deterrence – and Ali says that this was exactly what he had done. While detained, he was able to make several phone calls to other local politicians so that they could exercise influence on the politician who was trying to take over the aid distribution. After two hours of frantic phone calls, the armed men left and PVDP was able to freely carry out its work.
"The area where we were working before the floods had a zero percent crime rate, so security was not as much of a concern," Ali shares. Yet as the organization has increased its presence in new flood response areas in Sindh, he notes that the security situation has become more complex when compared to their past development work.
When speaking of being held hostage by a politician's bodyguards, Ali says that even members of local criminal gangs uprooted by the floods respect the work of PVDP, because of the organization's adherence to humanitarian principles. "These criminal groups have said, 'You are doing the humanitarian work. You are the aid workers, so there is no harm for you. You can do anything. We support you,'" he recalls. "Sometimes it is not the criminals, but the politicians that you have to worry about."