So Much Loss in Such a Short Time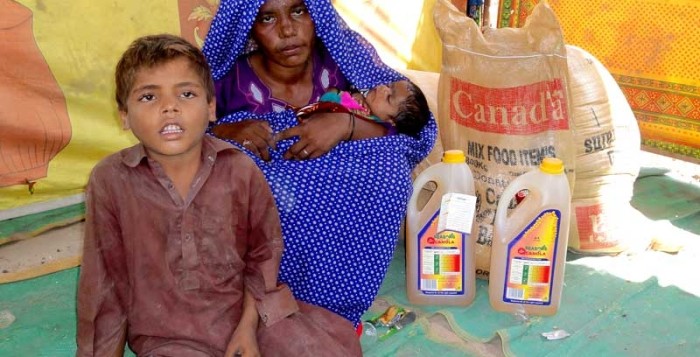 Church World Service-Pakistan/Afghanistan recently distributed food packages in Umerkot District, where Kareema, a food package recipient, shared her story of unfortunate losses. A thirty year old mother and widow, Kareema, with her seven children including a newborn, no longer has a home in which to live, no financial resources, and has debt. With unimaginable personal loss and the circumstances she and millions of other individuals face following the devastation across Sindh, Kareema and her children have a multitude of challenges ahead.
"When floodwater entered into our house due to several days rains, my husband and I decided to leave our home and take shelter on a highway, which was about thirty kilometers from my own village. Accordingly, we shifted to a place named Khano Mangrio where I am still living. We carried very few things with us. I was pregnant then. During the flood, my condition was not good, and when it become worse, my husband took me to Umerkot Hospital where I was operated upon and bore a child," explained Kareema as she pointed at the newborn baby with her. "My husband had no money to pay the surgical and other costs so he borrowed a lot of money, and I had to sell my gold which was my property."
Further tragedy was still to come. After the baby was born and Kareema was released from the hospital, her husband became sick and died shortly afterward from a heart attack. "That brought me to the hospital again, and that's the end of my hope of recovery from the flood situation. I have no way out now.
"I got news from my neighbors who went to see the village conditions after floods that our houses are fully damaged and all materials have been destroyed, but this was not the end. After a few days, our milk giving cows and goats also died. Had those been alive, I could have milk from them for my children." Kareema fought back tears as she mentioned her children.
"During that difficult flood situation, we had no one to help us. None came to us – government or any NGO. From time to time the children are getting sick as there is no proper place to live in. No health facility is presently in this place. We are in desperate conditions now.
"I am very grateful to you people that you are giving me food packages. We can have food to eat for so many days. My children will be happy, too, for this food."
With tears in her eyes, she asked for shelter- two rooms to live in and some household items.