SNAP National Consultative Workshop Successfully Concludes in Kabul, Afghanistan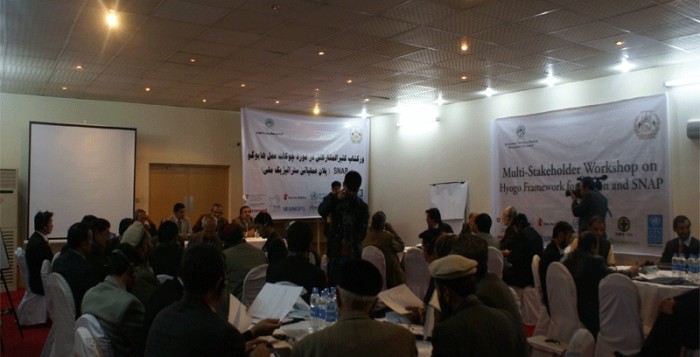 On November 22, 23, and 24, CWS-P/A assisted Afghanistan National Disaster Management Authority to hold national consultative workshops on Strategic National Action Plan on Disaster Risk Reduction and Climate Change Adaptation. SNAP is a national road map document, which will capture where Afghanistan is with regards to DRR/CCA, where it wants to reach, and how it will achieve the goals. CWS-P/A supported this milestone activity in its creation and follow-on activities with ANDMA for Afghanistan National DRR Platform.
Two separate workshops were held, one for provincial, local government personnel and one for the national level line ministries, UN agencies, (I)NGOs, academia, and donor communities. More than forty representatives from all over Afghanistan attended the provincial level workshop, which was a rare occasion for them to feed their thoughts into a national strategy formulation process. For both workshops, Hyogo Framework for Action priorities were used as a guidance framework; participants developed future action and formulation activities after completing in-depth analysis of the country's current situation and needs.
SNAP will be finalized in December 2010, and it is expected to be nationally launched in January 2011. The new ANDMA General Director, Dr. Mohammad Daim Kakar, expressed his appreciation toward the valuable occasion of having almost all ANDMA provincial directors at one event for the exchange of thoughts and ideas; he assured his commitment to work closely with national and international partners who support the Platform and SNAP processes.
On 28 February 2010, the Afghanistan National DRR Platform was launched in Kabul with the participation of over 200 stakeholders. It was established to promote better coordination and collaboration to work toward a safer and more resilient Afghanistan. The formation of Afghanistan National DRR Platform opened up an avenue for formulation of SNAP for Afghanistan.
The aforementioned workshops were made possible with generous contribution from (in alphabetical order): Actionaid, CWS-P/A, Helvetas, Italian Ministry of Foreign Affairs – Directorate General for Development Cooperation, OXFAM Novib, Save the Children, Swiss Agency for Development and Cooperation, United Nations Development Programme, United Nations Office for Project Services, and World Health Organization.