Small Steps, Dramatic Results for Afghan Women's Health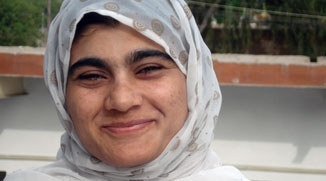 Kamila Barakzat spends her days engaged in one of the most challenging and sometimes taboo aspects of medical work in rural Afghanistan: women's health and family planning.
Working within the deeply conservative and patriarchal social structures that characterize Afghan society, Kamila, a mother and child health coordinator with Church World Service, sees her work as central to the rebuilding of Afghanistan, particularly since many of the families served are former refugees who fled to Pakistan and Iran.
"The overall health of a community directly depends on the health and knowledge of women," she says with a deep sense of conviction. "This is where we have to continually focus our efforts if we are going to address the health needs of entire communities."
Kamila describes what can be regarded as an almost miraculous decline in the infant mortality rates in the seven CWS-P/A target districts in the eastern border provinces of Nangarhar and Laghman. From October to December 2009, only one natal death was registered — a truly remarkable accomplishment in a country with the third highest infant mortality rate in the world.
Dr. Sardar Muhammad, the CWS-P/A health program director in Afghanistan, attributes this success in particular to the higher number of women receiving tetanus inoculation, and the community-based ante- and post-natal care health outreach efforts.
"In addition, well-equipped delivery rooms and qualified staff have further helped draw an increasing number of women to choose to deliver at CWS-managed health facilities," he adds.
However, Kamila's work has not been entirely smooth sailing. She says that her most formidable challenge has been trying to create social acceptability for the idea of family planning – sometimes called "child spacing" within the Afghan context. And ironically, the greatest opposition to the idea can come from women themselves. "Women often cite the words of a mother-in-law who can see family planning as being un-Islamic," she notes.
During her time as a mother and child health coordinator, Kamila has dealt with cases that if not handled with great sensitivity could have created immense friction within local communities. In particular, she draws attention to situations in which women have sought family planning support, but without the knowledge of their husband or mother-in-law. Given the cultural sensitivities and protection issues, Kamila always encourages women to work towards persuading their husband and mother-in-laws of the need for practicing family planning.
Kamila recalls one particularly challenging case: "I met a 35-year-old patient named Taira Bibi, who came to our Amarkhel health facility with two frail looking children — one aged two years and the other six months."
Her advice to Taira Bibi to adopt family planning met with some initial resistance. She patiently and persistently explained the value of spacing children in order to bolster her own health and that of her children. "In time, not only did Taira adopt family planning and experience an improvement in her children's health, but during her subsequent visits she was often seen sharing the benefits of the program with other women at the health facility.
"This approach of building ownership within the whole family creates a much more lasting and sustainable change within communities than if we worked in silence," she adds. "And in most cases, women succeed, despite the initial resistance to the idea."
Dr. Sardar stresses that the introduction of appropriate family planning within communities can be critical to decreasing the economic burden of a very large number of children and can significantly improve the overall health of families. Within the provinces of Nangharhar and Laghman, he says that CWS-P/A has found that the most appropriate and effective forms of family planning are free oral contraceptives as well as condoms, depending on the context within a given family. However, no interventions are deemed successful without significant awareness efforts and training on the use of various methods.
Kamila says the most valuable part of her work is when initially skeptical community members, like Taira Bibi, become some of family planning's best and most impartial advocates. Kamila proudly notes that she has even won over members of her own family, with her sister-in-law "religiously" following the program. And she adds that despite what may appear to be slow progress, these seemingly small steps are seen as a massive leap forward — both by the project staff and the communities.
"Our ability to work in some of these difficult areas with the most vulnerable segments of society is due in no small part to the ability of CWS-P/A staff to build long-term bonds of trust with local communities," says Dr. Sardar. "The only way forward in improving community health is for our staff like Kamila to continue to negotiate the power structures within Afghan family systems without transgressing cultural boundaries."