Providing Skills Trainings in Mansehra District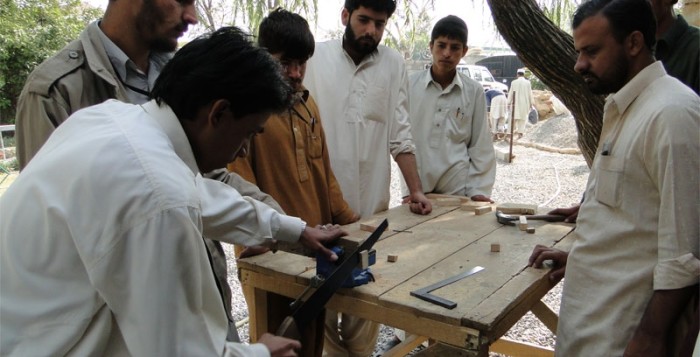 Of the 1.7 million Afghan refugees in Pakistan, 1.5 million reside in flood-affected provinces. In Khyber Pakhtunkhwa Province alone, more than twelve thousand dwellings in refugee villages have been swept away, leaving almost seventy thousand people homeless. The catastrophe has presented even more challenges to the Afghans, most of whom have sought shelter with relatives or in makeshift shelters. These families continue in their struggle for survival and to bring back whatever they can for their homes and family members.
In assisting these families Church World Service – Pakistan/Afghanistan, through its Construction Trade Training Program (CTTP) in Mansehra has trained two hundred forty Afghan refugees and sixty individuals from host communities in various construction trades including electrical, welding, masonry, carpentry, and plumbing. In order to help graduates find dignified livelihoods, the organization seeks employment and apprenticeship opportunities for trained graduates. In addition, this endeavor provides a platform for trainees to have group discussions and information sessions for the trades they have acquired.
Much of the credit goes to the trainees who have demonstrated proficiency in the skills in which they were trained while passing the Government Trade Testing Board (GTTB) examinations. Graduation ceremonies were held with guests including Refugee Assistance Coordinator, Mr. Rafael Foley, and Refugee Specialist, Mr. Wahid Gul, from the Embassy of the United States of America during which trainees were provided tool kits for their respective trades.
As the project continues, twenty graduates will be trained as master trainers to assist technical resource persons in conducting their sessions and in consequently helping to enhance their skills for the development of community members. Overall, these initiatives help restore dignity to humanitarian welfare while ensuring that quality assistance is provided to those who have been displaced.