Skills Development at Display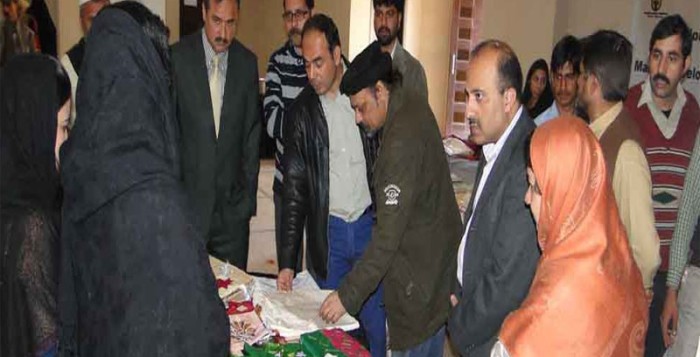 In early December, CWS-P/A held an exhibition in Manshera District, Pakistan. The initiative was part of CWS-P/A's vocational training which includes teaching women tailoring, embroidery, and dress designing. The project works to benefit Afghan refugees and members of the host community with income earning opportunities. Following CWS-P/A's long history of health related work in Mansehra, the project also provides primary health services and education to the communities. These activities ensure that the needs of Afghan and host communities are met so that dignified and healthy lives are led. Moreover, the exhibition enables communities to recognize skills and opens market opportunities and links.
During the exhibition, CWS-P/A set up three stalls with items including clothes, bags, children's wear, purses, pouches, and bed sheets among other handmade items. In addition, nineteen organizations and ten entrepreneurs were invited to display similar work at the exhibition. More specifically, some of this display consisted of items made from wool, marble, wood, and jute. Students from colleges and universities as well as elders from the communities attended the exhibition. They appreciated the efforts of various organizations in promoting Afghan culture, while local community members shared that the activity not only promoted talent and skill but made unique and fairly priced products available to all.
Through the project a total of 695 female and male Afghan refugees and host community members received training in skills that include tailoring, embroidery, electrical, welding, carpentry, plumbing, masonry, and auto mechanics. The project manager states that 119 male graduates are currently employed in Afghanistan. A total of 87 graduates have also acquired advanced training and 75% of male graduates reported to have increased income by 40% and 78% of females increased their income by nearly 30%. Female graduates have also been able to display their products at exhibitions held in Islamabad, Peshawar, Abbottabad, and Mansehra.
"Prior to the training, I was unemployed, but now I am trained and CWS-P/A provided me with a tool kit. I am earning money," said Jannat Gul, a graduate from the welding trade. The project continues until summer 2013 and is significantly contributing to the positive development of communities residing in northern Pakistan. Jannat Gul and other graduates now have income earning opportunities and skills which previously were not possible.
CWS-P/A through the project is adhering to standards that work to serve the communities in accountable ways. The provision of skills to earn dignified livelihoods is an as example which involves the active participation of communities and paves the way for communities to bring change to their lives.