Situation Update: "Thousands Stranded as River Floods Swept Away Houses, Shops, and Bridges in Northern Pakistan"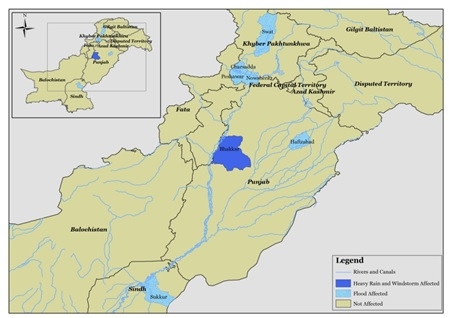 Background:
At least 7 people' including· children and women' died and over 50 sustained injuries as a severe storm and rain hit various parts of Khyber Pakhtunkhwa Province on Thursday.
In Swat District, flash floods have left about 700,000 people stranded in Matta and Kabal tehsils, cutoff from Mingora City after a portion of the Ayub Bridge fell victim to Swat River's raging waters. Ayub Bridge is the only link that connects Mingora with Kabal and Matta. Residents living across the river now face multiple issues along with restricted mobility. Majority of the people have small business in Mingora and have employment on both sides of the river. If the link will not be restored soon they will face countless problems. This is a temporary makeshift bridge; the original one was destroyed in July 2010 floods. The flood-affected residents of both tehsils are being shifted to safer places through remote routes. A portion of the Kalam Road in Swat and ten other houses located at the bank of the river has also been washed away; road to Kalam Bazar stands closed.
Kabul River is witnessing high-level flood at Warsak and Nowshera. Peshawar Flood Cell informed that the remaining rivers passing through Khyber Pukhtunkhwa are flowing normally. The villages along the banks of Kabul and Swat rivers, including Mian Gujjar, Jalabela, Sheikh Killay, Mamu Khatkay, Banda, Pashtun Garhi, and Mohib Banda are also facing flood threats and some inhabitants of these villages have already started shifting to safer places. The provincial government has set up a flood emergency center which will commence its 24-hour information service from June 15, 2013.
Pervez Khattak, Chief Minister of Khyber Pakhtunkhwa, visited various parts of the Nowshera District affected by the flood on June 13, 2013. According to media reports, he directed the authorities to be ready for any problematic occasion the flood could create and to emphasize keeping residents informed. Approximately 150 houses were flooded by the overflowing Kabul River; residents have mostly shifted to relatives' homes for safety. So far no relief camp has been set up in the district to provide assistance to the people in the low-lying villages exposed to the floods.
In the southern province, Sindh, a breach in the Rohri Canal resulted in damages to acres of agricultural land in Sukkur.
Within the next 24 hours widespread rains and thundershowers are expected in Khyber Pakthunkhwa and Punjab, while scattered rains and thunderstorms are expected in Southern Sind,
Southern Baluchistan, and at isolated places of Northeast Balochistan.
CWS-P/A Response:
Currently CWS-P/A is closely monitoring the situation.