Home
CWS-P/A
Situation Update: "Sixth Monsoon Spell Continues Damaging Infrastructure, Property and Loss...
Situation Update: "Sixth Monsoon Spell Continues Damaging Infrastructure, Property and Loss of Human Lives"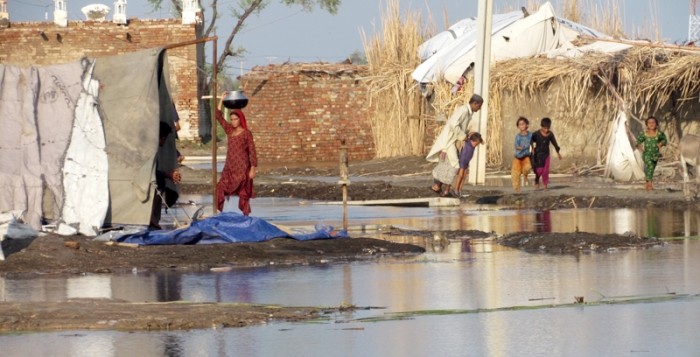 Background:
The sixth monsoon spell started from July 29 and remains active. Damages to property, infrastructure, and loss of human lives continue to rise as low lying areas are inundated in Sindh, Balochistan, and Khyber Pakhtunkhwa (KP). At least 58 people have been killed and 30 injured due to flash floods in various areas of the country, said an official of National Disaster Management Authority (NDMA). According to NDMA, as many as 66,341 people have been affected by the floods, 1,363 houses have been damaged partially and 2,429 destroyed completely, 285 villages have been affected and 135,051 acres of crops have been affected due to flash flooding. 1,022 people are residing in 15 relief camps established in flood-hit areas.
Khyber Pakhtunkhwa
Following the havoc created by rains in Khyber Pakhtunkhawa, Peshawar, Chitral, Charsaddah and Nowshera were affected along with other areas of KP. Many areas remained cut-off after road links and suspension bridges were washed away in the province. At least five people including three kids have drowned and several injured in different areas of Peshawar. The floods washed away a number of houses and shops in the district.
In Chitral, Bonie Road was badly damaged by the flash flood. At least two people died and over 120 houses, 60 shops, and six bridges were destroyed by the flood. The incessant rains continued inundating a large area in valley of Chitral and its outskirts causing huge damages to the property and standing crops besides leading to loss of precious lives.
Sindh
Rains continue in various parts of Sindh Province and a state of emergency was declared. Jacobabad District received the most rain in the province from August 4 – 5, 2013. A total of 196mm of rain fell in Jacobabad during these 2 days alone. Flash floods following monsoon rain paralyzed parts of the largest city, Karachi. Authorities in the city of 18 million people, which contributes 42 percent of Pakistan's GDP, said it would take more than two days to clear up after the water flooded markets, buildings, and houses and blocked roads. Hundreds of cars were half-submerged after poor sewerage and drainage systems became blocked due to garbage.
Balochistan
Rain in Balochistan has flooded River Tali and River Nari, while Sibi-Tali road was damaged and the route was obstructed.
An emergency has been declared after a breach in an embankment in Jhal Magsi District of Balochistan. Troops were called in Jhal Magsi by the civil administration after heavy rains and floods submerged 25 villages in the district. Life came to a virtual standstill in several other towns and cities of the province. According to Pakistan Meteorological Department, the widespread heavy downpours in the province would generate more flash flooding in the local rivers, streams, and seasonal streams of the province, particularly in the vulnerable areas of Sibi, Naseerabad, Kalat, and Makran divisions.
CWS-P/A Response:
Currently, CWS-P/A is closely monitoring the situation and has emergency teams in Jacobabad and Thatta Districts. The organization is also in contact with local partners across the affected areas and is prepared to respond if the need arises.
CWS-P/A is in the process of providing 250 families in Thatta District, Sindh with food packages which will help the affected families meet their food security needs for one week.