Situation Update: Security Concerns Peak for Women and Children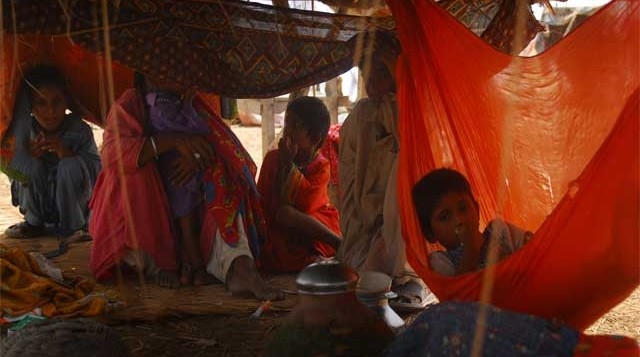 The flood affected people of Pakistan are not only experiencing difficulties with survival challenges but also in their struggle to stay secure. As people vacate their towns and villages in search of dry land, several security concerns arise. There have been reports of a few families being robbed on their way to camps. Television channels also reported cases where dacoits looted houses after flood survivors left their important possessions behind when they evacuated. Consequently, many families feared moving or refused to initially leave their homes because of the likelihood of robberies.
Background
However, these concerns are not just about belongings and tangible items but rather importantly about a safe environment for women and children. In such large scale catastrophes, women and children become vulnerable in terms of security, exploitation, and abuses. Women in Pakistan also suffer more during emergencies because of the cultural restrictions placed on them. In most cases, only men travel to distribution points to collect relief items because women are in the practice of remaining segregated from men. During this flood emergency, individuals must travel, in some cases up to half a day's walk, to reach distribution points due to blocked or destroyed roadways. Security is an issue for both women who travel these long distances as well as women who remain in their villages while male family members make the journey to collect relief items. There are very few ways for women to protect themselves without proper shelter while their male family members are away. Also, there are a few cases of women dying in trampling at distribution sites, particularly in camps. Due to unorganized distribution, men, women, and children chase after relief items; many people get injured and a few have died.
CWS-P/A's Rabia Wasid describes the insecurity faced by women and children, "Media has paid little attention to these issues; however, there are real concerns. Cases of rape and kidnapping are on the rise. Mothers do not send their young daughters to get food or other relief items in camps because of increasing reports of exploitation and prostitution surrounding relief goods."
Thousands of women are living in overcrowded camps and tents, damaged houses, or makeshift wood and straw shelters. These conditions make women easily accessible by anyone who intends to do harm and vulnerable to protection issues. Although few cases are being reported in the media, the number of cases of rape, prostitution, and kidnapping shared by various organizations at coordination and cluster meetings is increasing, particularly in meetings for protection issues. Very little has been done to protect women and children from exploitation and abuse; if measures are not taken to protect them, then the number of cases will drastically rise once human traffickers begin preying on vulnerable women and children.
CWS-P/A Response
Representatives from CWS-P/A actively participate in gender and protection cluster meetings. CWS-P/A also promotes the importance of quality and accountability through standards such as Sphere and HAP. Such standards help protect the dignity of the affected population. Following standards is crucial for providing relief items and services that are also safe and accessible for women.
CWS-P/A recognizes the importance of continuing to reach vulnerable families with immediate food and non-food items. The organization plans to provide an additional 3,000 families with food and non-food items in Sukkur and Thatta and to also initiate two mobile health units in Khairpur and Sukkur. At the same time, the organization is planning for early recovery. To assist in meeting medium-term health needs as well as rehabilitation of livelihood means, CWS-P/A identifies three early recovery initiatives. Construction Trade Training Centers, similar to the initiative developed for recovery of the 2005 earthquake, will help build the capacity within communities for reconstruction. Without resources, farmers and owners of small shops will face a longer period of food insecurity. Similar to its food security initiative for IDPs, CWS-P/A plans to initiate cash for work, vouchers, and cash grants to help reestablish agricultural livelihood. Continuation of health services while reconstruction of the government health facilities takes place is essential; CWS-P/A identifies the importance of the establishment and efficient management of basic health units for the affected communities. At present a total of 4,932 patients have been treated at CWS-P/A's mobile health units operating in Mansehra, Kohistan and Swat
CWS-P/A continues its first round of food as well as NFI and shelter distribution in Sindh, Balochistan, and Khyber Pakhtunkhwa. It also continues services of its three mobile health units and six basic health units in Mansehra, Swat, and Kohistan.
Contacts
Allan A. Calma
Deputy Director
Disaster Management Program
allan@cwspa.org.pk
Cell: +92 301 5801621
Muhammad Fazil
Associate Director
Emergencies/DRR/Climate Change
fazil@cwspa.org.pk
Cell: +92 332 5586134
Kelli Siddiqui
Head of Communication
ksiddiqui@cwspa.org.pk
Cell: +92 302 5156273