Situation Update: Realities beyond Imagination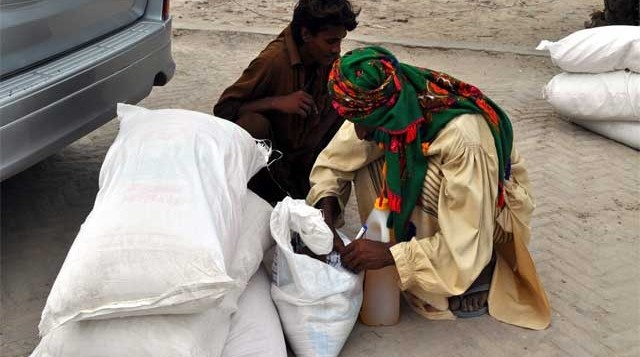 Nearly twenty million people affected; more than eight and a half million are children. More than a million homes lost. Approximately nine million acres of productive farmland destroyed. Hundreds of thousands of animals died. Thousands of schools and medical facilities destroyed. Devastation is everywhere.
Background
Throughout the provinces, families are not affected by one loss but rather in every way. One family has not lost its home while another suffers from illness and another lost its livelihood means. One family lost everything, its home, its livelihood, its belongings, and the same family cannot access health services and its children cannot attend school.
In Gambat Tehsil, Khairpur District, Sindh Province, Iqbal answers a question about the situation of his home and family, "My house is still below four feet of water, and my entire rice crop has been destroyed.  I'm left with nothing. Currently, I am living at Agara UC Bund with my family of twelve members. I have no money. I am very thankful to CWS-P/A for providing me a month's ration; until now, this has been the best food packages in terms of quality and quantity which can support us for a month and even more. I do not have to take a loan for my monthly ration now. My children are suffering from stomach diseases and skin infections like rashes and boils, and I do not have money for my wife's expected delivery. I do appeal for basic health services from CWS-P/A, too."
In Madyan Union Council, Swat District, Khyber Pakhtunkhwa, Arshad Ali shares his story. Arshad, at twenty-eight years old, suffers from polio and has no use of one foot and one hand. Prior to the floods, he fought against all odds and was running a small shop in his village. A few years ago, Arshad's elderly father retired from being a cook in a veterinary dispensary; Arshad has been caring for his parents, two brothers, and two sisters ever since. The floods took his home and his shop, and he is left with no way to support his family. "I am thankful for the food items provided by CWS-P/A; I request help in providing material so I can rebuild my house."
With such great loss for individual families, from where will they start rebuilding their lives? It is very difficult to start over when you have nothing. It is even more difficult when everyone else around you also has nothing. Entire communities lost in a matter of moments from which recovery will take years. It is imperative that the government and humanitarian organizations take immediate steps toward comprehensive, planned reconstruction so that families can stop being dependent on aid and start regaining their self-dependence. Quality and accountability is the key to ensuring humanitarian efforts provide families with the opportunity to not only regain what was lost but to build the foundation for an improved future. Coordination and planning among government departments and humanitarian organizations are important, but more important is the process of including community participation in all recovery initiatives.
The time is now. Planning for early recovery is already starting amid the distribution of immediately needed items. Plans, however, only turn to reality when funds and human resource are available and when raising awareness and capacity within local communities occurs.
CWS-P/A Response
CWS-P/A's first round of food distribution has been completed in D. I. Khan, Swat, Sibi, and Khairpur. Food distribution will also be completed in Kohistan and Shangla before the Eid holiday this upcoming weekend. NFI distribution continues. The mobile health units continue to provide services in Swat, Mansehra, and Kohistan. The three mobile health units have treated more than five thousand patients.
CWS-P/A recognizes the importance of continuing to reach vulnerable families with immediate food and non-food items. The organization plans to provide an additional 3,000 families with food and non-food items in Sukkur and Thatta and to also initiate two mobile health units in Khairpur and Sukkur. At the same time, the organization is planning for early recovery. To assist in meeting medium-term health needs as well as rehabilitation of livelihood means, CWS-P/A identifies three early recovery initiatives. Construction Trade Training Centers, similar to the initiative developed for recovery of the 2005 earthquake, will help build the capacity within communities for reconstruction. Without resources, farmers and owners of small shops will face a longer period of food insecurity. Similar to its food security initiative for IDPs, CWS-P/A plans to initiate cash for work, vouchers, and cash grants to help reestablish agricultural livelihood. Continuation of health services while reconstruction of the government health facilities takes place is essential; CWS-P/A identifies the importance of the establishment and efficient management of basic health units for the affected communities.
Contacts
Allan A. Calma
Deputy Director
Disaster Management Program
allan@cwspa.org.pk
Cell: +92 301 5801621
Muhammad Fazil
Associate Director
Emergencies/DRR/Climate Change
fazil@cwspa.org.pk
Cell: +92 332 5586134
Kelli Siddiqui
Head of Communication
ksiddiqui@cwspa.org.pk
Cell: +92 302 5156273