Situation Update – Pakistan: Rains and Flood-affected Population Crosses 1.5 Million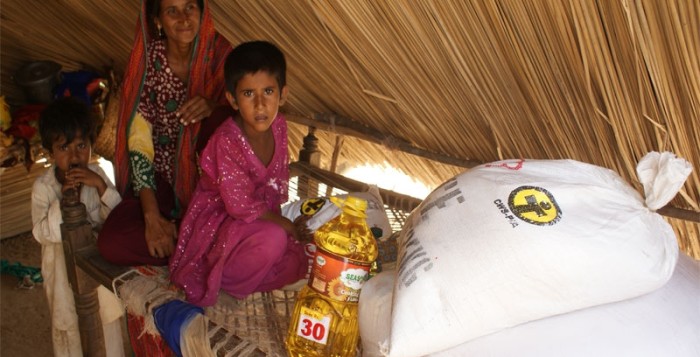 Background:
"At least 178 people have died and 1,503,492 others affected by recent monsoon rains and floods across Pakistan," a senior National Disaster Management Authority (NDMA) official shared.
Central and southern Punjab continue to face the brunt of the monsoon spells. In Okara, 60 villages were submerged while 75 villages were inundated in Vehari due to a flood in Sutlej River. The Punjab Disaster Management Authority provided rations and tents to the flood-hit areas. The flood-affected people are being shifted to safer places in the suburbs of Burewala tehsil and Vehari. In Uch Sharif, Bakhtiari embankment breached due to a flood in Chenab River.
Sindh was also badly affected during the past few days of rains and heavy river flow. At least 300 villages were submerged due to a flood in Khairpur district, and standing crop on thousands of acres was destroyed. The Khairpur deputy commissioner said that thousands of flood-affected people were evacuated to safer places. At least 25 villages in Dadu were also flooded.
Latest figures show that more than 826,000 acres of crop area are affected. More than 150,000 animals are affected and at least 10,000 animals died. Many dairy and poultry farms were swept away by the floodwater. As a consequence, the costs of dairy products and meat will significantly increase in the flood-affected areas which will further exacerbate food insecurity and malnutrition conditions.
More than 45,000 houses have been completely or partially damaged in 5,615 affected villages.
On August 24, NDMA shared that it is providing essential items to 30,540 people in 323 relief camps established in flood-affected areas. Thus far, 39,284 tents and 109,200 food packages have been distributed by NDMA. The rapidly expanding affected population, however, means that relief efforts will need to significantly increase to meet the basic needs for affected families, both inside and outside of relief camps.
The risks for more damages and continuing devastation remain high in Punjab and Sindh. Dams and water reservoirs have reached maximum capacity. With more rains predicted and no current capacity to handle more water, the surrounding areas and their residents will remain particularly vulnerable in the coming days and weeks.
CWS-P/A Response:
CWS-P/A is closely monitoring the situation and the emergency response team is prepared is case further needs arise. CWS-P/A also received requests from local partners in Sindh and Punjab to help them provide assistance to the flood-affected communities.
CWS-P/A provided one-month food packages to 3,575 individuals (550 families) in Thatta District, Sindh. The assistance was possible with financial support from DanChurchAid and UMCOR. Through financial support from Christian Aid, 360 more families will receive food packages over the next two weeks.