Situation Update: Offering Immediate Assistance When Most Needed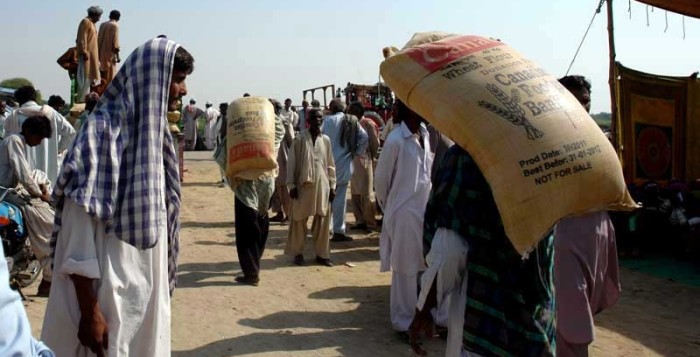 Nearing three months since heavy monsoon rainfalls hit Pakistan's southern province, affected families in Sindh are still in need of immediate life-saving assistance. With global funding remaining minimal, at least three million people remain in dire need of food, clean water, medicines, and adequate shelter.
Background:
Relief efforts by the United Nations have indicated funding constraints, with the Pakistan Rapid Response Plan funded only at 22% (USD 79 million) of the pledged amount (USD 357 million). While the onset of winter brings in additional concerns and needs, the miseries of affected communities peak. With the bare minimum, survivors continue coping with everyday hardships, exposed to numerous diseases, vulnerabilities, and risks. Health needs are rising across camps with stagnant water contributing to outbreaks of diseases including dengue and malaria.
As the upcoming Rabi (winter) planting season will pass, farmers will be pushed into greater difficulties including increased debts, food insecurity, and lost livelihood opportunities. Vast areas remain under water, which will cause a drastic decline in agricultural outputs, thus, negatively affecting food supply, food prices, and food security. The consequences of the huge agricultural loss will expand beyond Sindh, with effects on food security and food prices throughout Pakistan.
The time to offer help is now when communities linger in distress. With limited funding, the humanitarian community in Pakistan continues to provide as much assistance as is possible to the survivors. However, the funding and relief supplies will soon disappear. Receiving or not receiving assistance for food, clean water, medicines, and shelter will have drastically different effects on the lives of the most vulnerable. With the current funding trend, the world may very soon be watching an escalated humanitarian crisis that could have been prevented if timely assistance was provided.
CWS-P/A Response:
CWS-P/A initiated the distribution of food packages to 270 families in Pithoro, Umerkot District. In total, 2,000 families will receive 577 metric tons of food in Mirpurkhas and Umerkot. This is possible with support from the Canadian Foodgrains Bank through Presbyterian World Service and Development.
The procurement process of an additional 2,000 NFI kits and additional 500 shelter kits is underway. These initiatives are part of the larger ACT Preliminary Appeal.
Through the ACT Preliminary Appeal, CWS-P/A plans to assist 48,000 affected individuals in four districts: Badin, Thatta, Umerkot, and Mirpurkhas. The relief assistance comprises of food packages for 2,000 families for two months, nonfood items and temporary shelter for 4,000 families, and mobile health services to 12,000 individuals. Food packages meet or exceed Sphere minimum standards as follows: 2,248 kilocalories per person per day (107% of standard); 12% of calories from protein (100% of standard); and 17.8% of calories from fats (104.7% of standard). NFIs and health services are also according to Sphere standards.
CWS-P/A continues active coordination at the national, provincial, and district levels.