Situation Update: More Weather Challenges for Flood Survivors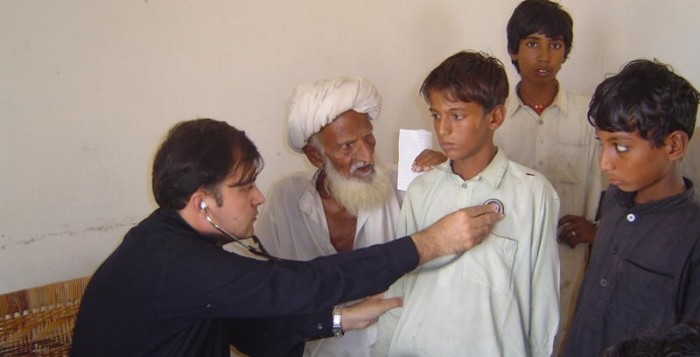 With cool winter temperatures being experienced in Pakistan particularly in the northern areas, flood survivors continue to struggle coping with the hardships of changing weather. Survivors still remain at the risk of starvation and disease; the most vulnerable are children and the elderly. Accessibility to basic needs including food and medical services adds to the hurdles faced by affected communities while many rails, roads, and bridges are yet to be reconstructed.
Background
CWS-P/A's Senior Project Officer, Saleem Dominic, describes weather conditions and the needs of people in Swat in the province of Khyber Pakhtunkhwa, "It gets much cooler here by the end of November. At present, affected communities still require winter items including blankets, warm clothes, and most importantly when it comes to shelter, winterized tents for many who have lost their homes." He shares, "Both local and international non-government organizations continue to provide relief but a lot more needs to be done before communities are assisted with rehabilitation."
Coping with these challenges is even harder for families who reside in high-altitude areas. Stocking food supplies, accessing health services, and power failures are some of the many concerns they face as temperatures drop.
Saleem, in addition, mentions cooking stoves as part of the winter list which he says can also be used to keep warm in winter. Responding organizations possess the capacity to meet these needs if resources are acquired in time. Without this assistance, the coming months remain tough for thousands of Pakistani families while they remain in need of much assistance.
CWS-P/A Response
To date, CWS-P/A distributed a total of 20,900 food packages amounting to 2,758 metric tons, supporting 91,200 individuals. A total of 9,010 non-food items (NFI) have been distributed; total NFI distribution reaches 75,500 individuals. This includes 2,010 tents that have also been distributed.
CWS-P/A continues to provide health services through mobile health units and basic health units in Sindh and Khyber Pakhtunkhwa. A total of ten mobile health units (MHUs) are operational in Mansehra, Kohistan, Swat, and D. I. Khan in Khyber Pakhtunkhwa and Khairpur in Sindh. The mobile health teams in Mansehra, Kohistan, and Swat have provided more than 25,000 consultations. CWS-P/A's health teams continue to conduct health education sessions on issues related to personal hygiene, HIV and AIDS, skin infections, safe drinking water, sanitation, and local endemic diseases. CWS-P/A's Diarrhea Treatment Centre (DTC) located in Swabi District, Khyber Pakhtunkhwa in collaboration with WHO has provided over 290 consultations.
Contacts
Allan A. Calma
Deputy Director
Disaster Management Program
Cell: +92 301 5801621
Muhammad Fazil
Associate Director
Emergencies/DRR/Climate Change
Cell: +92 332 5586134
Kelli Siddiqui
Head of Communication
Cell: +92 302 5156273