Situation Update: Homelessness, food insecurity, health concerns and much more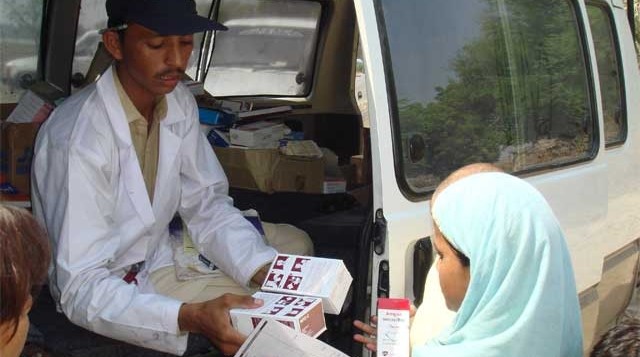 The murky floodwaters have slowly been receding in parts of Sindh including Thatta and Badin. Parts of Sindh have been inaccessible for the past eight weeks; local people share that they have yet to visit relatives for Eid. Dr. Ramesh, working for CWS-P/A and PVDP's mobile health unit in Khairpur says, "People are worrying too much, and this is bringing on more illnesses. A large number of patients have stress-related headaches, and all we can do besides provide medication is to tell them to not worry."
Background
As of September 30, two thousand eighty-three consultations took place through the mobile health unit operating in Khairpur District. "With an average of over two hundred patients per day, the needs of people are evidently huge," shares Dr. Ramesh.
The disaster has a psychosocial impact on the affected individuals as they struggle to deal with the losses that have come their way. Fathers remain without work; mothers remain without their household items; children remain without food and toys. The situation is undoubtedly gloomy for millions of people rendered homeless by the devastating floods in Pakistan.
Families continue to live under open skies or in makeshift shelters. Protection from illness, poor weather, mosquitoes, snakes, and other threats is lacking. Jasma, a thirty-five year old woman who recently received a tent, shared, "We live in a cloth shelter on the road and it has been two months we do not have a home, now we have this tent." She, her husband, and eight year old daughter anxiously wait to return to Jati Village once the floodwaters recede.
Like Jasma's, many families wait for the opportunity to return to their villages. However, returning home is only one challenge; new challenges are arising and will take even longer to overcome. Providing shelter, access to safe drinking water, livelihood opportunities, and health services is essential for preventing more suffering and losses of life. With limited resources, responding organizations must make conscious effort to first reach the most vulnerable individuals. It is often heartbreaking to provide food, tents, and other basic necessities to some families while their neighbors are also in great need. Continued support is needed for the people of Pakistan; by now, thousands of affected families are grateful for the assistance they received and are starting the recovery process, but thousands more have yet to receive any relief.
CWS-P/A Response
CWS-P/A distributed a total of 12,340 food packages amounting to 1,631 tons. The distribution benefits 91,200 individuals. In Swat, CWS-P/A distributed an additional 450 out of 1,200 food packages donated by the National Disaster Management Authority. A total of 6,265 non-food items have been distributed; total NFI distribution reaches 75,500 individuals. The organization has planned for additional distribution of food and non-food items for 3,000 families in Sukkur and Thatta.
CWS-P/A is also planning for early recovery assistance through assessing the health and livelihood needs of the people affected by the floods. The organization plans for three Construction Trade Training Centers. These initiatives are similar to those developed at the time of the 2005 earthquake which will help communities with capacity building for reconstruction. Other initiatives also include cash for work, vouchers, and cash grants to help reestablish livelihoods for farmers who face high risk of food insecurity.
CWS-P/A continues its health response for flood affected families in both Khyber Pakhtunkhwa and Sindh by providing preventive and curative health services. At present, three mobile health units are operational providing services in the districts of Swat, Kohistan, and Mansehra of Khyber Pakhtunkhwa. One additional mobile health unit recently started operations in Khairpur while one more mobile health unit is planned for Sukkur in Sindh. CWS-P/A health teams have also conducted more than 300 health education sessions on issues related to personal hygiene, HIV & AIDS, skin infections, safe drinking water, sanitation, and local endemic diseases.
Contacts
Allan A. Calma
Deputy Director
Disaster Management Program
allan@cwspa.org.pk
Cell: +92 301 5801621
Muhammad Fazil
Associate Director
Emergencies/DRR/Climate Change
fazil@cwspa.org.pk
Cell: +92 332 5586134
Kelli Siddiqui
Head of Communication
ksiddiqui@cwspa.org.pk
Cell: +92 302 5156273