Situation Update: Thousands More Affected Over the Weekend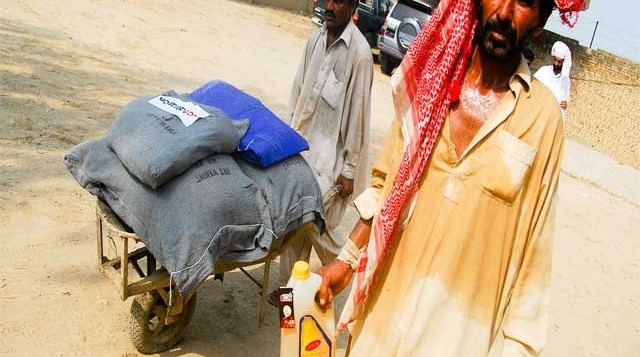 On August 21, nineteen of 23 districts in Sindh were announced as calamity-hit regions by the provincial government as the flood waters posed serious threats to Hyderabad and Thatta. About 150,000 people were forced to move to higher ground as floodwaters submerged more towns and villages.
Background
Exceptionally high flooding has persisted at Kotri; the Flood Forecasting Division (FFD) has warned that this will continue for five to eight days. The estimated level declared has been 700,000 to 800,000 cusecs for five to eight days with high flood of around 600,000 cusecs for at least another ten days.
Media sources have shared that a total of 4 million people have been affected in Sindh with over 600,000 people in relief camps. As the second wave of floods hit the province, the cities of Shahdakot, Qabu Saeed Khan, Mero Khan, and Sajawal amongst others were evacuated with rising flood waters from Garhi Kheru.
In the struggle to save towns and villages reports revealed that people started digging gaps in an embankment to let the water get away. This has resulted in enraged landlords blaming neighbors for diverting water onto their property. There remains without a doubt that the floods have caused a catastrophic calamity with around 2,000 people dead in the country and many roads and highways continue to remain inaccessible.
Media sources have also shared that the number of IDPs in Karachi has reached 28,000 in 23 relief camps, and due to a shortage of space and resources, approximately 15,000 individuals are on their own and denied any relief.
As the disaster worsens and the threats to lives, land, and livelihoods continue to increase, the importance of quality and accountability emerges. Among reports of delayed response, lack of planning and poor Disaster Risk Reduction efforts, poor infrastructure, and environmental degradation is the underlying need to advocate and promote for improved response efforts and lessons learned with an emphasis on how quality and accountability initiatives such as Sphere and HAP standards can help the government and responding humanitarian organizations overcome challenges. CWS-P/A continues its efforts to promote quality and accountability at the national and local level. Despite a lack of funding, the dedicated CWS-P/A team has started laying the groundwork for change. Committed HAP members pledged support during a recent meeting, the first organized for HAP members in Pakistan; the group identified challenges and areas for future action, including efforts to promote quality and accountability within the existing government and non-government structures, such as NDMA and coordination and cluster meetings. Simultaneously, CWS-P/A's efforts to bring quality and accountability to the foreground of the flood response resulted in new opportunities to enhance relief efforts. Joint needs assessments and complaints handling are two examples.
Additional advocacy from within Pakistan and internationally is needed to ensure that the millions of dollars of funds are managed in an organized effort to meet the most immediate and prioritized needs of the affected population now as well as over the next months into rehabilitation. With many stakeholders involved, concerted effort must be made to include the affected population in relief and recovery so that these communities can begin to pick up the pieces of their lives and strive for an improved tomorrow.
For more information on quality and accountability, please read "Sensitizing Humanitarians on the Importance of Quality and Accountability."
CWS-P/A Response
CWS-P/A continues to reach affected communities with food packages, NFIs, and health services. Preventive and curative health services are being provided through two mobile health units and six existing basic health units in Swat and Mansehra. The BHUs support a population of approximately 100,000 individuals. At present at total of 2,446 patients have been treated. Plans for additional mobile health units are in process for other areas. Distribution is ongoing and will be continuous throughout the next couple of weeks in three provinces. The following tables summarize distribution activities.
The 3 basic health units operating in Swat (Roniyal, Kishore and Segram) continue to provide health assistance.
Location

Intervention

Beneficiaries (individuals)

Distributed or Distribution/ Delivery in Progress (to date)

Planned distributions

Province

District

No. Packages

Weight (in tons)

No. Packages

Weight (in tons)

Khyber Pakhtoonkwa

Swat

Food Packages (2 month ration)

16,000

 

 

4,000

460

Kohistan

Food Packages (2 month ration)

7,000

1,000

140

1,000

140

D.I. Khan

Food Packages (2 month ration)

7,000

1,000

140

1,000

140

Shangla

Food Packages (2 month ration)

8,000

1,000

140

1,000

140

Battagram

Food Packages (1 month ration)

2,100

300

42

 

 

Balochistan

Sibi

Food Packages (2 month ration)

7,000

1,000

140

1,000

140

Naseerabad

Food Packages (2 month ration)

24,000

 

 

6,000

840

Sindh

Khairpur

Food Packages (2 month ration)

10,500

1,500

210

1,500

210

 

 

 

81,600

5,800

812

15,000

2070
Location

Intervention

Beneficiaries (individuals)

Distributed or Distribution/ Delivery in Progress (to date)

Planned distributions

Province

District

No. Packages

No. Packages

Khyber Pakhtoonkwa

Swat

Non-Food Items

16,000

 

2,000

Kohistan

Non-Food Items

7,000

 

1,000

D.I. Khan

Non-Food Items

7,000

 

1,000

Shelter (Tents)

1,250

750

500

Shangla

Non-Food Items

8,000

 

1,000

Battagram

Plastic Sheets

7,000

1,000

 

Balochistan

Sibi

Non-Food Items

7,000

 

1,000

Shelter (Tents)

1,250

750

500

Sindh

Khairpur

Non-Food Items

10,500

 

1,500

Sukkur

Non-Food Items

10,500

 

1,500
Read more about CWS-P/A's Quality and Accountability work
Contacts:
Allan A. Calma
Deputy Director
Disaster Management Program
allan@cwspa.org.pk
Cell: +92 301 5801621
Muhammad Fazil
Associate Director
Emergencies/DRR/Climate Change
fazil@cwspa.org.pk
Cell: +92 332 5586134
Kelli Siddiqui
Head of Communication
ksiddiqui@cwspa.org.pk
Cell: +92 302 5156273