Situation Update: Extreme Heat and Lack of Clean Water Affecting IDPs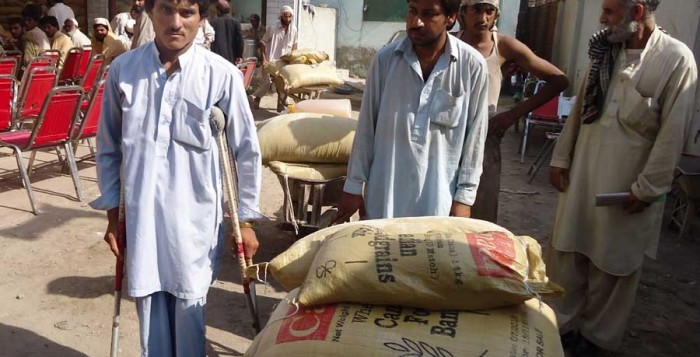 Background:
As of mid-July, the total number of displaced families living throughout Pakistan's Khyber Pakhtunkhwa Province remains at approximately 150,000 (approximately 675,000 individuals). Most of these families are living in absolute poverty. The majority of people still live in the host communities, either in Peshawar or surrounding areas. For Peshawar, life is crowded and clean water is extremely limited. With little relief from their existing circumstances, many displaced individuals are at extreme risk for malnutrition and health related problems. Protection issues are also a major concern as large segments of the displaced population face one or more vulnerabilities which are going unaddressed.
Health
Although the monsoon rains bring some relief from the heat, the threat of flooding is still a concern for families living in and around Peshawar. The temperature has been steadily rising as summer pushes forward. The lows of the day are approximate 30 °C, rising to 45 °C and higher during midday. So far, the actual amount of rainfall has not threatened Peshawar with flooding, although the local and international community is acutely aware of its possibility.
Due to the nature of crowding, an inadequate clean water supply, and the intense heat, Peshawar is a potentially high-risk area for health endemics. The primary concern right now is the number of cases of diarrhea for which the lack of clean water is the main cause. Diarrhea can be easily treated, but left untreated it can lead to serious injury and even become fatal. Not everyone has access to the required health services and medicines. The best way to overcome this challenge is through preventative measures; an increase in the availability of clean water would dramatically reduce the number of patients.
For residents of camps and host communities, the possibility to contract other illnesses is a constant threat. CWS-P/A's Dr. Qamar notes, "The most common consultations are diarrhea, malaria, skin disease, typhoid, and fever." Water is another contributing factor for these issues; however, the overcrowding and the searing heat create unhygienic living environments. Heat stroke is also a common phenomenon. Peshawar is no exception to the regular scheduled power outages or load shedding as it is called in Pakistan, which means even those who are fortunate to live with electricity or other amenities do not have this facility for 10 hours or more each day. Fans and electric water coolers are also in short supply, subduing people to live with the full force of the temperature. This is felt most severely for individuals living in tents or non-ventilated rooms and most commonly affect women and children who spend most of their day inside.
CWS-P/A Response:
CWS-P/A continues coordination with other organizations working in the area, including coordination and cluster meetings.
CWS-P/A recently completed a second round of food distribution to 2,000 families. These families received an initial food distribution in late June, while this second distribution was expedited to ensure families have sufficient food for the month of Ramadan. This is part of CWS-P/A's Food Assistance project which is supported by Canadian Foodgrains Bank. All food packages distributed by CWS-P/A are according to Sphere standards, meeting the minimum of 2,100 kilocalories per person/day, fat, and protein intake needs.
Thus far, CWS-P/A has provided 728 metric tons of food to 3,090 families since the start of its response, with support from Canadian Foodgrains Bank and DanChurchAid.
Two static health units will be stationed in Peshawar while 1 mobile health unit and 1 mobile laboratory will move as needed. Sixteen qualified individuals encompass the medical team, including 1 female doctor and 4 female nurses. The qualified health team provides both the displaced and host families with essential health services including consultations and free distribution of fundamental medicines listed by the WHO. In addition to pre and postnatal care, "Our female nurses, community mobilizers and doctors also give health education sessions on important public health topics such as breast feeding, safe drinking water, personal hygiene, prevention of diarrhea, malaria, HIV/AIDS, and others," states Dr. Qamar. Initially this project was scheduled to start in early July; however, it will commence as soon as CWS-P/A receives the required NoC (No Objective Certificate) from the issuing authority. The expected start date is now the first week of August, and the health team is prepared to provide these essential services and health awareness.
Immediate Needs:
Fans/Electric water coolers
Health services and medicines, particularly mobile services for IDPs in host communities and vaccination campaigns to prevent the spread of diseases
Non-food items to assist families to relocated without household and other basic belongings, including hygiene items
Nutrition initiatives to locate and treat undernourished children and pregnant and lactating women
Access to cash and income earning opportunities