Situation Update: Displaced Children Need Support and Hope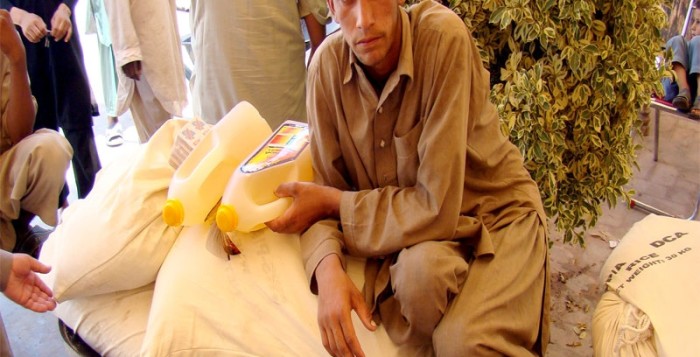 Background:
For the displaced population in Peshawar and its surrounding areas, children are in need of support and hope in order to overcome the challenges they face due to their displacement. Little attention is being given to the displacement that started four years ago and, therefore, less to the needs of children and their families. With an average family size of eight in Khyber Agency, from where families are currently being displaced, the majority of the displaced population consists of children. In addition to access to basic needs of food, water, and shelter, this young population has special needs which are currently unmet.
In recent visits to Jalozai and host communities, CWS-P/A staff members met with displaced families to discuss their situation and needs. A group of women was able to discuss openly with mothers, grandmothers, sisters, and other women through which emerged the concerns, unmet needs, and uncertainty the displaced population, specifically the women and children, face. The following describes the overall situation for children.
Food Security
Families cannot afford and do not have access to the quantity and quality of food they had before displacement. Entire families are reducing the frequency and substance of meals. Milk and meat are rarely consumed, and in some families, not consumed at all. Wheat, tea, and vegetables are the main diet. In these circumstances, children are not receiving the nutrition that they require. Without immediately addressing these needs, a long-term effect on their mental and physical development can occur especially for children who have been displaced the longest. Hunger is also one of the factors that contribute to the worsening health status of children and the increase in irritability. On a large scale, the situation is as one mother described, "The children are without adequate clothes, food, and they do not get much drinking water."
Health
Almost all families reported an increase in the frequency of illness in children. The poor, unhygienic living conditions, lack of access to water even for bathing, and change in climate are some of the main factors afflicting illness among children. Many children do not have clean clothes, are not bathing regularly, and live in unclean environments without proper sanitation facilities. "Children fall sick often. One of the young boys got malaria after he fell in a dirty stream just outside the house. Doctors fees in nearby clinics are a lot, but we pay it as there is no other option. Children are getting sick more often here than at home. We keep on paying doctor's fees here ranging from Rs 200-500 (USD 2.22-5.55), even more sometimes including medicines." Dur Bibi, a grandmother displaced with her extended family in Bader Kaley.
Psychological Effects
According to their mothers, the children are suffering psychological trauma from the events they witnessed before displacement. However, they continue to suffer because of their poor living conditions. One mother shared, "Both my younger children have eyesight and hearing problems after the firing and explosions on our home." Beyond this, children are scared and reclusive in their current conditions. The psychological effects of the fighting and their displacement are worsened because they are isolated in small living quarters and are not attending school. Mothers do not know how to help their children overcome this situation because they themselves are more isolated and confined in their current living conditions. Before displacement, many of the families lived in houses with open fields in which women and children were accustomed to spending time outdoors; however, in Peshawar, the lack of open space and privacy prevents them from going outside, leaving them confined to an overcrowded room.
Education
Children who attended school prior to displacement are, for the most part, not currently enrolled in school. The mothers share that this is making their children lazy, bored, and unsettled. Akalmina, who resides in Jalozai Camp, described, "Children are just getting rowdy in the camp and wander off alone. Sometimes they get beaten up by other children." Although there are educational facilities established within the camp, the majority of children residing in and out of the camp still require access to education. It not only is their basic right but also is a form of structure. A sense of normalcy will be additional support for the children who suffer psychological effects. It is also an opportunity to provide education to girls who did not previously attend school in Khyber Agency. Awareness must be raised to get children in school while the existing educational system needs support to accommodate the displaced children without causing financial burden on their families.
Some of the needs such as food, shelter, and water can be addressed at the same time for the entire family. However, areas of health, education, and providing children with opportunities for healthy activities require special effort that is catered to their unique needs. These range from vaccination campaigns to recreational activities. Any initiative to address children's needs must also factor in awareness and accessibility to ensure that the most vulnerable children benefit.
Needs:
Food and nutrition
Drinking Water
Shelter
Education
Health care, medicines, malnutrition screening, and vaccinations
Psychosocial support and recreational activities
Mosquito nets
Clothing
Sanitation facilities and hygiene
CWS-P/A Response:
CWS-P/A, with support from DanChurchAid, is currently distributing 1,140 food packages that will benefit 9,576 individuals in Nowshera and Peshawar. These food packages provide the families with sufficient food and calorie, fat, and protein intake for one month as per Sphere standards.
CWS-P/A, with support from Canadian Foodgrains Bank, procured and is preparing for the distribution of an additional 2,000 food packages in accordance to Sphere standards to benefit 16,800 individuals. The support will continue to these families for two more consecutive months of food package distribution.
As part of the ACT preliminary appeal, CWS-P/A also plans to assist 16,800 individuals with two months of food assistance, 16,800 individuals with non-food items, and 24,000 individuals with health services through mobile health units, hydraulic mobile health unit, and a mobile laboratory. Health activities will give particular emphasis to women and children.