Situation Update: Devastation Worsens in Sindh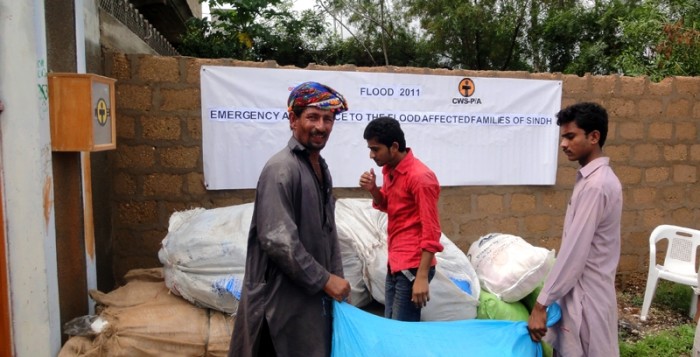 Continued heavy rains in Sindh Province have compounded the crisis which started last month.
A further 29 deaths have raised the death toll to 226 while the number of homeless has now surpassed 300,000. Four and a half million acres of land, including 1.2 million homes, farmland, and relief camps in Badin, have been flooded. Crops have been lost, including an estimated 13% of the cotton crop, a major source of income for the region. Link roads in the Pangrio area have been wiped out by the rains, leaving 25,000 people isolated and without any access to relief services.
Background:
Aside from need for immediate relief assistance, the affected population is concerned for its livelihood and housing losses. In an interview with Donna Fernandes, CWS-P/A Communication Officer, a landless farmer, Mohammad Suddhir expresses this concern, "I do not have money to rebuild my house and, at present, lost our cotton crop. I do not have money and only get paid a few thousand rupees from the landlord." Mohammad lost ten acres of his cotton crop and his two room house; similar stories are heard throughout his village, Haji Ladho Khaskhelly, and the surrounding areas in Thatta.
Many villages remain cutoff as the monsoon continues, further complicating efforts by the government, UN agencies, and I/NGOs to provide rescue and relief services. An estimated 222,000 displaced people are in dire need of the food, shelter, and medical care as the unsanitary conditions into which they have been forced make these individuals dangerously vulnerable to waterborne diseases and severe hunger.
Karachi, already destabilized by months of ethnic, religious, and political tension, was paralyzed by flooding; up to 100mm of rain has been recorded in the economic capital of the country, killing 7 people and bringing the city to a standstill.
The WFP, WHO, OCHA, UNHRC, IOM and Pakistan Red Crescent Society are currently working to provide relief services to those in the worst-hit areas. Currently, Badin, Mirpurkhas, Tharparkar, Nawabshah, and Thando Allah Yar are suffering from severe flooding, with rainfall measuring between 501 – 1200mm, while Thatta, Thando Muhammed Khan, Hyderabad, Matiari, Karachi, Jacobabad, Dadu, Khairpur, Sukkur, Larkana, and Naushahro Feroze are experiencing moderate flooding with rainfall measuring 100 – 500 mm.
CWS-P/A Response:
CWS-P/A finalized the beneficiary selection in Thatta in consultation with targeted communities, OCHA, and the government. Distribution of tents and blankets will take place tomorrow. These relief items meet Sphere minimum standards, particularly accounting for family size, climate, and weather conditions. Due to the extreme weather conditions, the relief items only reached the warehouse yesterday which also delayed the start of the distribution. All other preparations have been completed, including putting in place the standard CWS-P/A complaints response mechanism.
CWS-P/A's basic health unit in Badin continues to serve the affected population despite having to relocate three kilometers from its location due to inaccessibility caused by the rains. A large portion of the health care recipients come from the displaced population living along the roadside.
CWS-P/A continues active coordination at the national and local levels. CWS-P/A's emergency response team members are conducting assessments, preparing for distributions, and ensuring quality and accountability of the planned response. CWS-P/A's operations, procurement, finance, strengthening humanitarian assistance, human resource, global funding unit, and communications departments are providing full support.
A Preliminary Appeal will be launched shortly. CWS-P/A has also submitted its proposed response plans to the UN Flash Appeal.