Situation Update: Death toll of Earthquake affected people rises to 382 in Pakistan and Afghanistan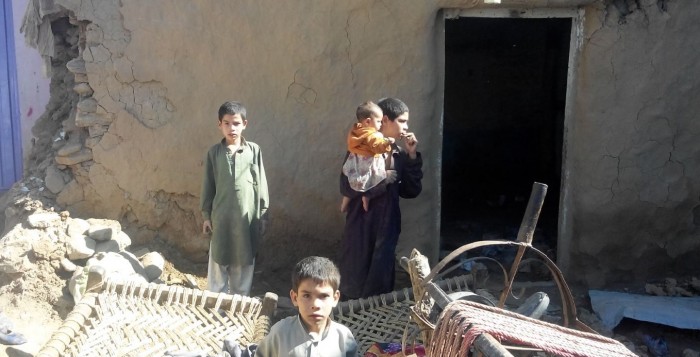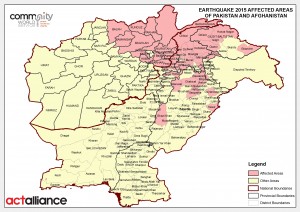 The extent of reported damages due to the 26th October Earthquake has increased since yesterday as the information from previously cut off areas have started pouring in. According to the latest information received, 382 people have died in different areas of quake stricken Pakistan and Afghanistan with 2,368 people injured and thousands left without shelter and livelihoods.
The overall damages from the two countries is expected to increase as more information starts arriving from areas that are still inaccessible due to landslides, road damages and disrupted communication networks.
According to the initial findings of the needs assessment teams of Community World Service Asia, the earthquake affected communities are in dire need of food support, winter kits, emergency health assistance and nonfood items. The affected communities have lost their homes, their belongings, food stocks, kitchen utensils but are somehow surviving in the freezing temperatures in northern parts of both the countries. Health concerns are expected to arise if immediate needs of the affected populations are not met soon, hence speedy emergency response initiatives need to be taken.
Pakistan: Five of the provinces in Pakistan, including AJK and FATA region have been affected by the recent earthquake. Khyber Pakhtunkhwa being the most affected province, has reached a death toll of 220, leaving 1,688 people injured.
| | | | |
| --- | --- | --- | --- |
| Affected provinces in Pakistan | No. of Casualties | Injured | Houses Damaged |
| Khyber Pakhtunkhwa (KPK) | 220 | 1,688 | 10,586 |
| FATA | 30 | 59 | 300 |
| Gilgit Baltistan | 10 | 31 | 436 |
| Punjab | 5 | 78 | 60 |
| Azad Jammu & Kashmir | 2 | 12 | 6 |
| Total | 267 | 1,868 | 11,388 |
The Education Department of KPK reported that almost around 813 schools in nine of the affected districts in the province are extensively or partially damaged.
In the Malakand district of KPK province, earthquake survivors are facing harsh weather conditions due to unavailability of shelters. These communities have no proper covered living space to protect them from the cold which have restricted their day to day and livelihood activities. Protection from the cold climate to maintain the families' privacy, safety and health are of vital need currently.
As aftershocks of the earthquake have continued to strike the affected regions, communities are reluctant to go inside their houses due to the fear of another deadly earthquake and are forced to spend their nights in open air.
According to the National Seismic Monitoring center, 41 aftershocks have so far been recorded since the 7.5 magnitude earthquake struck on Monday October 26th and has warned of more aftershocks. Moreover, the earthquake has not only led to the destruction of built structures or landslides but has also caused two glaciers in Karakorum to break into pieces while cracking many more glaciers in the Hunza valley. Officials have warned that the breaking of more glaciers could lead to a flood-like situation in the valley. The quake aftershocks could cause these glaciers to melt and the water released may result in the formation of more artificial lakes in the area.
Afghanistan: A total of 12 provinces in the country have been affected by the two day old earthquake. These include Badakhshan, Balkh Kabul, Kunar, Kunduz, Laghman, Nangarhar, Nuristan, Parwan, Samanjan and Takhar.
According to the latest information, 115 people are reported to have lost their lives while 500 people are left injured due to the devastating earthquake. Information is still to be received from areas that are still cut off due to damaged communication networks in the country. A total of 2,135 houses have been reported damaged across the country so far.
Response by Community World Service Asia: Community World Service Asia's emergency response teams have started assessments in Shangla, Kohistan, Buner, Malakand and Swat districts in Pakistan while assessment in Badakhshan, Laghman, Kunar and Nangarhar in Afghanistan is to be initiated in the following days. Need assessments in Pakistan are being carried out in close coordination with the district authorities and other relevant stakeholders.
Initial information from the affected areas have started coming in from our field staff which has revealed that the affected communities are in dire need of emergency food aid, winterization support, health and NFI provision immediately. These needs are to be followed by further recovery interventions. Community World Service Asia is planning to start assisting the affected communities instantly with food aid and emergency health services in district Shangla. Depending on the availability of funds, the response will be further extended to other areas.
Please follow our live photo updates from the earthquake affected areas on our facebook page at https://www.facebook.com/communityworldserviceasia/ .
Contacts:
Allan A. Calma
Deputy Director
Disaster Management Program
Email: allan.calma@communityworldservice.asia
Cell: +92 301 5801621
Muhammad Fazal
Associate Director
Emergencies/DRR/Climate Change
Email: fazil.sardar@communitryworldservice.asia
Cell: +92 332 5586134
Nejabat Khan Safi
Associate Director
Disaster Management Program
Email: nejabat.safi@communitryworldservice.asia
Mobile: +93 799 326 628
Palwashay Arbab
Head of Communications
Email: palwashay.arbab@communityworldservice.asia
Cell: +92 42 3586 5338
Sources:
http://www.ndma.gov.pk/new/
http://www.andma.gov.af/