Situation Update: Curtailing Relief Operations Increases Risks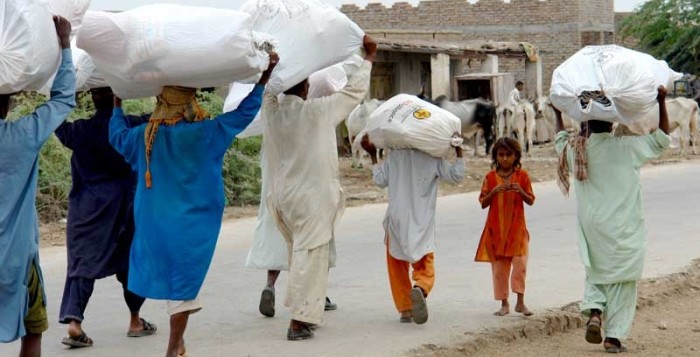 While the UN has achieved only approximately a fifth of its relief target and aid agencies on the ground are faced with funding challenges, the situation for flood survivors still remains bleak. Exposed to risks of disease, malnutrition, and food insecurity survivors are now burdened with lowering temperatures and the hardships of the winter season. Through media, humanitarian agencies continue to emphasize these challenges, particularly the funding shortfall and immediate health concerns.
Background:
Newest estimates reveal that diseases are on the rise including dengue, malaria, and acute respiratory infection due to the presence of stagnant waters and the seasonal change of temperatures. With three million people in need of emergency food assistance, around 800,000 people are still displaced and approximately 3.6 million people require agricultural support.
More than a month has passed since CWS-P/A along with the UN and other humanitarian agencies started emphasizing the negative impact underfunding would have. Unfortunately, the warnings are becoming a reality across Sindh. Presently, it is about personal health, but soon enough the impact of an inability to restore agricultural based livelihoods will also emerge.
The humanitarian community is aware of the reasons behind the lack of funding. However, for the people in need, it is not the same case. Their lives are far removed from the international fight on terrorism, the geopolitical reasons behind funding, and the financial strain on humanitarian donations. These communities, some of which are among the most vulnerable, marginalized, minority communities, struggle daily for survival under normal circumstances. The current situation, after two years of consecutive floods, is way beyond the community resilience level. Immediate help was needed months ago, and today, it is needed even more than ever.
It is difficult to predict exactly how many individuals will suffer and at what level of severity because humanitarian agencies do not have the financial means to continue needed support. However, with millions of lives at stake, it is safe to say that negative impacts will be felt to varying degrees across all boundaries. Regardless of economic or social status, communities could feel the effects for years to come. For those pushed farther into food insecurity, even a couple years may be too much time, and they could lose the fight against malnutrition and hunger.
CWS-P/A, like many other humanitarian agencies, remains committed to ensure that assistance reaches those most in need and that funds are utilized in the most accountable way. As poverty and natural disasters take their toll across continents, the international community is requested to leave no place, including Pakistan, on its own.
CWS-P/A Response:
Thus far, CWS-P/A completed the distribution of food packages assisting 21,000 individuals in Thatta, Mirpurkhas, and Umerkot districts. During mid-November food distribution benefiting 3,500 individuals will take place in Badin District. CWS-P/A also completed the distribution of nonfood items to 17,500 individuals in Thatta, Badin, and Mirpurkhas districts. The aforementioned support is in addition to the distribution of 125 shelter kits in Thatta District at the very start of the emergency response.
Through the ACT Preliminary Appeal, CWS-P/A plans to assist 48,000 affected individuals in four districts: Badin, Thatta, Umerkot, and Mirpurkhas; however, funding to complete this planned response has yet to be received. The relief assistance comprises of food packages for 2,000 families for two months, nonfood items and temporary shelter for 4,000 families, and mobile health services to 12,000 individuals. Food packages meet or exceed Sphere minimum standards as follows: 2,248 kilocalories per person per day (107% of standard); 12% of calories from protein (100% of standard); and 17.8% of calories from fats (104.7% of standard). NFIs and health services are also according to Sphere standards.
CWS-P/A continues active coordination at the national, provincial, and district levels.