Situation Update: Current situation threatens to worsen food insecurity in Sindh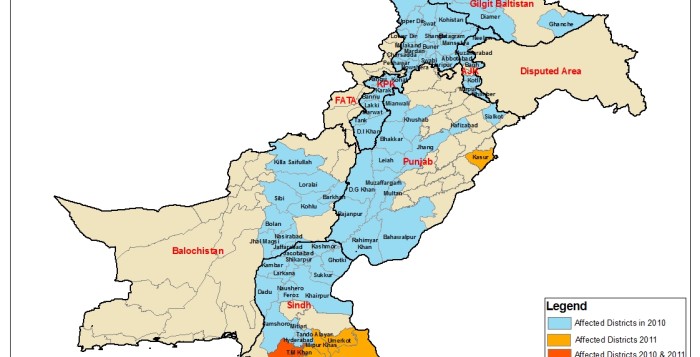 A flood-like situation has been created in parts of lower Sindh as rain continues off and on. Media reports stated that fresh breeches developing in waterways and drains inundated an additional 20 villages including the village of Golarchi in Badin District. More than 500 villages in the district have been washed away with water flowing towards the coastal areas.
Background
Reports of additional breaches in canals and drains have left hundreds of villages inundated while the minister for water and power said that a loss of over Rs. 5 billion in Tando Mohammad Khan alone has been caused. With severely damaged standing crops, canals, and sewage systems in urban and rural areas the minister said that the affected require food, medicines, and tents and majority are shelter-less because of a lack of relief camps. As assessments of damages and needs are taking place throughout the affected districts, varying statistics and observations are coming in through media, local authorities, and humanitarian organizations. Although the degree to which assistance is required remains incomplete, it is evident that thousands of people lack access to basic necessities which if unaddressed could lead to additional deaths.
As of August 15, as many as 750,000 people have been affected in both Sindh and Punjab of which at least 50,000 have been displaced. Media reports also stated that all federal and provincial authorities have been called on to immediately launch relief work in flood affected areas of Sindh.
Food insecurity is already high in the affected areas. Statistics indicate that the ratio of severely-food-insecure-population in Sindh had increased above 32 percent in 2008 to 41 percent in 2009, up from 25 percent in 2005-2006. The current situation will further exacerbate this issue. Farmers' livelihoods depend upon the crops and livestock which have been washed away. The farming families will further fall into food insecurity, both in terms of immediate need and for the longer term. During emergencies, food security is often a major concern; however, in Sindh, it should be of particular concern because of the large percentage of the population which lives below or just above the food security level.
Although many people are leaving their homes to search for refuge in camps or in drier locations, reports of others refusing to leave their homes is concerning. Remaining in or near stagnant or contaminated water could lead to instances of waterborne diseases, rashes, and diarrhea. The prevention of these health risks is greatly dependent upon appropriate and timely assistance.
The longer the displaced and affected population lives without proper shelter and other basic necessities, the greater the chances this situation could develop into a longer term emergency with heavy impact on the food insecure region.
CWS-P/A Response
CWS-P/A's first response team continues to monitor the situation while conducting rapid needs assessment. The team is in close coordination with its partners and government authorities and would begin response as soon as the government launches an appeal for support from donors and the humanitarian community. CWS-P/A's disaster response team is prepared to respond if the need arises for food, NFIs, and tents.