Situation Update: Conflict induced IDPs: High Alert issued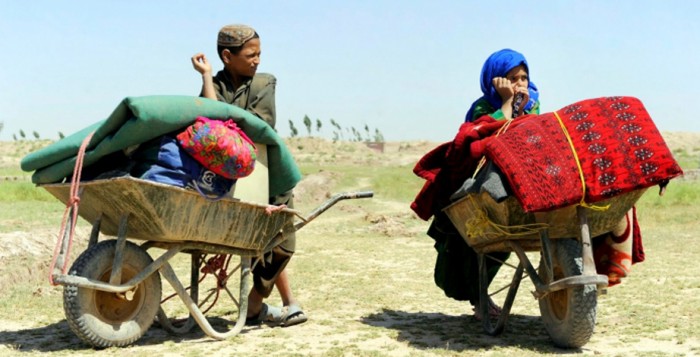 Photo Credit: NRC/Farzana Wahidy
Overall situation: Based on the recent report of UNHCR, the conflict-induced internal displacement in the North, North East and Eastern regions of Afghanistan increased rapidly in the last two months. It is estimated that during the first six months of 2015 more than 21,500 families and 139,000 IDPs were profiled as newly displaced, of which approximately 18,850 families and 103,000 individuals were reported to have been displaced during the course of 2015. The later figures represent an increase of between 40% and 43.5% compared with the same period in 2014.
Conflict-induced displacement continues to be largely triggered by Anti Governmental elements (AGEs) ground offensives and by The Afghan National Security Forces (ANSF) counteroffensives, often through large-scale military operations, including aerial bombardments. More recently, and on a more localized level in Eastern region, displacement has also been triggered by clashes between non-State armed opposition groups. In several situations, no party in the conflict appears able to capitalize on and hold territorial gains made over time. As a result, the frontlines and control over areas rapidly shifts, causing swift population movements and rapid displacement cycles that are increasingly difficult to track.
Based on current trends, conflict patterns, and mapping of traditional and new conflict hotspots, the IDP Task Forces in the regions have revised upwards the earlier projections for conflict-induced displacement in 2015, particularly for the Northern and North-Eastern regions. Present estimates suggest that by the end of the year, more than 48,500 families and 324,000 individuals may become displaced, which would make 2015 one of the worst years for conflict-induced displacement in Afghanistan since 2002. During the months of June and July, 21 out of 34 Provinces in Afghanistan have been affected by forced movements of population due to conflict.
Political developments, particularly the recently-announced death of Taliban leader Mullah Omar and the future of the peace negotiations, may also negatively impact displacement trends in the remaining months of 2015 as allegiances shift and different factions vie for regional power and influence.
Additionally these provinces have been affected by floods in 2015 especially the Kunduz, Baghlan, Takhar, and Nangarhar provinces, which resulted in the loss of food and other livelihood assets.
Kunduz Province: Kunduz Province currently remains one of the most fragile environments in Afghanistan, as the conflict between AOGs and Afghan National Security Forces is still going on in different districts/parts of Kunduz since April/May of 2015.  In May, most of the conflict was in Iman-shahib, Gultipa and some other parts of the province, which caused displacement of thousands of families from Gultepa, Alchin, Telawka, Bozi Qandari, and Hazrat Sultan area of Kunduz district, Qala-e-Zal, Dasht-e-Archi, Chardarah, Aliabad and other districts of Kunduz province.  Most of the displaced communities moved to the Provincial capital of Kunduz and to other semi urban areas of the city.  IDPs in this region were assisted with Food, NFIs, WASH, Health and other services by UNHCR, UNICEF, WFP, NRC, SCI, Community World Services Asia and other humanitarian organizations.
As the conflict continues and has moved to other districts  of the province, a second wave of the IDPs have emerged. Based on the recent Cluster update, about 5840 additional families have been displaced to Kunduz city and its semi urban areas from Chardara, Qala-i-Zal, Aliabad, Dashte Archi and Khan Abad districts. Others have moved to the capital city of Takhar province and its semi urban areas. The IDPs have filed their petitions for assistance to the DoRR (Directorate of Refugees and Repatriation) and their eligibility assessment in the urban and semi-urban areas of Kunduz, which are accessible to the IDP Task Force members is going on, as most of them have not received assistance. The number of IDPs in Kunduz is increasing rapidly as the military operation between AOG and ANSF is continuing in different part of the province. The recent clashes have resulted in civilian casualties, widespread damages to the people's properties and crops ready for harvest.
As some of the areas are not accessible due to security reasons and due to the ongoing, UNHCR and the IDP taskforce members have asked for Future developments in the conflict dynamics. They have suggested the control of the Kunduz Province to be factored in the plans of the humanitarian actors in order to address humanitarian needs in all areas and uphold humanitarian principles more firmly.
Takhar Province: Military operation started in the first week of July in Khuja Ghar district of Takhar Province, with intense clashes and quick shifting of territorial controls between parties in conflict. This provoked multiple movements of population, within Khuja Ghar District and towards Baharak, Taloqan and Dashte-Qala districts of Takhar. Additional conflicts in the Kunduz province districts (i.e. Khanabad district) have caused more displacement of communities in Takhar province as some of insecure districts of Kunduz province are bordering with the Takshan Province.
The assessment teams undertook the assessment throughout the month of July. Presently, 1,475 families are reported to be identified by the joint assessment team as eligible to assistance out of some 2,600 families visited. The assessment teams are now covering an additional group of population in Dashti Qala district of Takhar and the total number of identified IDPs in Takhar may eventually exceed the 1,600 families.
The IDPs have been able to bring along some of their belongings along but food security is a major issue. In areas of displacement, most of the families were found in overcrowded accommodations. They expressed the intention to return as soon as the situation in their home towns improve. Many families have however also reported the destruction of their houses and livestock and the unfinished harvesting at the time of displacement.
Baghlan Province: Similar to the other Northern provinces, Baghlan is also termed as an insecure province since the last few years due to the inconsistent conflict reported between AOG and ANSF.  In the last week of August, the conflict has however increased and ANSF has initiated a military operation in Dandi Ghuri area of Pulikhumir district and in Dahani Ghuri districts. This has caused massive displacement of people and according to the DoRR report, 3194 petitions of IDPs have been received. OCHA and UNHCR with the support of the IDP taskforce member organizations are planning to conduct assistance eligibility assessment survey, to identify the most vulnerable IDPs. The report stated that at least 50% of the above mentioned IDPs were eligible for assistance. 2904 families from the mentioned IDPs (3194 families) are displaced to Poli Khumri City, 220 families to Hussainkhail and Zamankhail villages of Poli Khumri city and the rest of 70 families to Baghi Shamal area of Poli Khumri.
As per the recent meetings and UNHCR field team report, the humanitarian response in Baghlan province remains a gap due to the low presence of humanitarian actors in the province and their pre-involvement in other IDP emergency responses in other provinces.
Other Areas in the North and North East:
Faryab Province: Due to multiple clashes between AOG and ANSF, armed hostilities and the unstable security situation in Qaisar, Almar, Pashtunkot and Sharin Tagab districts of Faryab Province, a displacement of around 5700 families to the relatively secure neighboring villages have resulted. These families have moved to district centers, relatively secure villages, urban and semi urban areas of Maymana (provincial capital) and to Khuja Sabs Posh (KSP) district. As of now, 1,216 families have qualified for assistance and the assessment of the rest of families is still going on. UNHCR and WFP are mobilizing resources to cover the needs of the displaced populations in Faryab.
Badakhshan Province:   Displacements of hundreds of families to Warduj district center and to Baharak district from Badakshan province has taken place. 160 families have been identified as eligible for assistance will soon receive assistance.  The taskforce members are planning another assessment for the newly displaced families.
Sar-i-Pul Province: During the last week of July, the Kohestanat district of Sar-i-Pul Provinces was taken over by AGE (Anti Government elements) which resulted in the displacement of 500-680 families to  Sar-i-Pul and Sayad district center. A joint assessment team has been formed with the participation of Save the Children to conduct the eligibility assessment of these communities.
Balkh Province: The Balkh province being the regional center/capital, has received IDPs from most of the Northern provinces as a result of the growing instability in the region, additional to its insecure districts, especially from Faryab, Sar-i-Pul and Samangan provinces. Currently the local authorities has reported he tpresence of 480 families, while the number IDPs is increasing from Kunduz as well. During the last few months only 140 families were assisted by the IDP taskforce members.  A Joint team has been mobilized to assess the situation and the reported petitions.
Eastern Region: Based on the recent reports of UNHCR, as significant instability is foreseen in this region due to multiple factors; including military offensive against AGEs hideouts, spill over insecurity from Pakistan FATA (cross-border shelling), AGEs intimidation against local population, including individual and family threats against serving members of ANA/ ANSF, and to a lesser extent tribal disputes. The reported presence of groups paying allegiance to IS/ Daesh is a new factor emerging in some of the volatile and bordering districts of Nangarhar (Deh Bala, Achin, Spin Ghar, Kot, Bati Kot, Khogyani, Chaparhar and Pachir Agam). It is foreseen that this can increase the internal displacement figures further. Trends are already visible since May.
Nangarhar province (especially its capital Jalalabad city) being one of the top host provinces for receiving Afghan returnees from Pakistan especially in 2015. It additionally received conflict induced IDPs from neighboring provinces as Laghman, Kunar and Nuristan further to the continuous influx of IDPs from its remote districts bordering Khyber Agency in FATA, notably Kot and Achin. Families are settling in Jalalabad, Behsud, Rodat and Shurkhrod districts, but also in the neighboring rural districts close to Achin.
Authorities have received and submitted some 106 petitions to the IDP Task Force filed by 1,684 families originating from Kot district of the province and 31 petitions at the beginning of July listing 1,847 families displaced from Achin district so far.
Until now humanitarian teams have reached out to some 1,258 families and 8,571 individuals from Mamand valley of Achin and from other villages of the same district. Most of the families have been assessed and assisted by the ICRC/ARCS in major areas of displacement in Ghani Khel. 1,073 families have received food and NFIs during the last week of July. As for the IDP Task forces activities, the remaining families was have been recommended for food, NFI or unconditional cash assistance.
Displacement in the Nangarhar province is likely to continue from the areas bordering Pakistan FATA (Nazyan, Achin, Dehbala, Dub Baba), largely due to counter insurgency operations and clashes ANSF/ AGEs and due to the harassments and pressure by AGEs. In addition, presence and action of groups paying allegiance to IS/ Daesh might trigger new displacements. From Kot, Bati Kot, Achin, Deh Bala, Khogyani, Chaparhar and Pachir Agam, communities are largely directed to Jalalabad and surrounding districts since May. Nangarhar provincial capital is likely to remain the main recipient of displaced communities from Laghman, Kunar and Nuristan.
Response by Community World Service Asia: Community World Service Asia is closely monitoring the situation and planning its response to provide urgent needs (Food, NFI, health and hygiene) of Conflict induced IDPs in Provincial cities and semi urban areas of Kunduz and Baghlan provinces in north, and in Nangarhar Province in east of the country, because of the following reasons:
Kunduz: Kunduz has a high number of conflict induced IDPs and the humanitarian organizations that are currently involved in response  are called on by the IDP taskforce member organizations, to mobilize more resources in order to reach to the most urgent needs of IDPs especially food, NFI, health and hygiene. Community World Service Asia, with financial support from Church of Sweden, has been providing monthly rations of food packages to conflict-affected families in Kunduz. It has an established presence in Kunduz with operational office and teams and can immediately respond to the urgent need of scaling up assistance in food and starting activities for support in NFIs, health and hygiene awareness.
Baghlan: As presence of humanitarian actors is very low in the province, it is vital to respond to the urgent needs of IDPs as it has received quite a significant number of conflict induced IDPs in the last few weeks. Community world service Asia can easily manage the emergency response from its Kunduz office as Baghlan is located only about 50Km from Kunduz capital city.
Nangarhar: Considering the current number of conflict induced IDPs, there has been a forecast predicting an increase in the number of IDPs in the province due to ongoing military operations, cross-border shelling from FATA areas of Pakistan and violence by groups alleging with  IS/ Daesh. Community World Service Asia has an operational office in Jalalabad city of Nangrhar province to be able to easily respond to the urgent needs of Conflict induced IDPs in urban and semi urban areas of Jalalabad city.
Contacts:
Allan A. Calma
Deputy Director
Disaster Management Program
Email: allan.calma@communityworldservice.asia
Cell: +92 301 5801621
Nejabat Khan Safi
Associate Director
Returnees and IDPs
Email: nejabat.safi@communitryworldservice.asia
Cell: +93 799 326 628