Situation Update: Advocating Quality and Accountability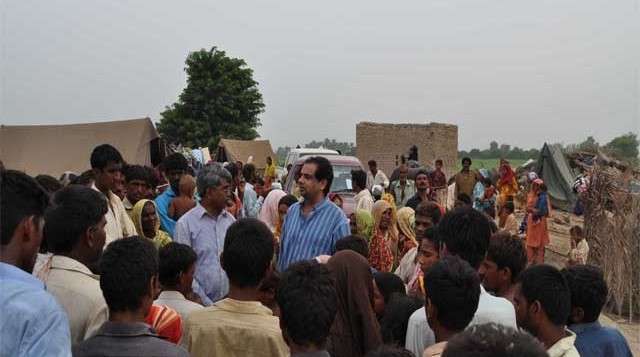 Church World Service – Pakistan/Afghanistan through its intervention in flood affected areas of Pakistan has worked to promote strict measures for transparency and quality and accountability. This has been done through its Strengthening Humanitarian Assistance Program (SHA). Various activities have received strong support at the local and national levels.
Background
From Islamabad, Mardan, Multan, Swat, Hyderabad, Sukkur, Quetta, and Abbottabad, a total of 130 people were introduced to and re-sensitized to Sphere standards and HAP. Ninety percent of participants were new to Sphere and HAP which indicates that a growing number of humanitarian organizations are taking interest in quality and accountability. Approximately 162 Sphere handbooks in English and 54 in Urdu have been distributed to requesting agencies, individuals, and workshop attendees. Participants have also requested for in-depth, practical sessions so that they can resolve or mitigate challenges in their respective organizations. A participant from Sukkur shared, "We want to serve people in an effective way, but we need to know how we can do that. Being local, we very well understand community issues and local context. We just need to have technical knowledge on how can we deliver quality service."
CWS-P/A's Regional Representative, Marvin Parvez, visited Participatory Village Development Programme, an implementing partner in Sindh, and met with local communities affected by the floods. Communities have at large expressed appreciation for CWS-P/A's two month food ration and the quality of food items included. Community members, however, expressed concerns for rehabilitation of livelihoods and winter. This direct interaction with the flood affected communities provided CWS-P/A senior management with firsthand information regarding quality and accountability in practice.
Complaints handling is an important element of quality and accountability. Following a training conducted by SHA on external complaint handling mechanism, CWS-P/A's office in Swat placed complaint boxes at Basic Health Unit (BHU), distribution locations, and schools where floods victims frequently visit. CWS-P/A's distribution team also developed flyers listing the food package information and office contact numbers in Urdu prior to the food distribution carried out on August 26, 2010. Queuing time and distance to distribution points were observed to comply with Sphere standards. So far, 10 inputs were received, and CWS-P/A is in the process of sorting and addressing these inputs, where relevant. CWS-P/A is also preparing radio messages in order to raise awareness within communities with respect to quality and accountability, particularly encouraging them to form committees and take ownership and participate in relief and recovery activities implemented by the government and humanitarian organizations.
Advocacy initiatives continue to raise support for quality and accountability at the national level. Recently, a government official approached CWS-P/A to provide information related to Sphere, particularly the technical chapter on shelter and settlement. 
In order to ensure the disaster response activities are in line with desired quality and accountability levels, technical advice and guidance is also provided internally within CWS-P/A. In addition, a quality and accountability strategy has been drafted with assistance of Act for Peace that serves as a guide for SHA's work during the relief and recovery phase. The strategy complements CWS-P/A's long-term strategy for quality and accountability. Currently, a senior program manager from HAP Geneva office is visiting CWS-P/A to explore the strategy and collaborative interventions in Pakistan as well as provide technical advice related to experiences that would benefit Pakistan.
In conclusion, the SHA team will continue to assist agencies to integrate quality and accountability effectively into the main components for response programs and promote a common voice that advocates for all actors to make sure assistance is provided with accountability and with dignity. Upcoming events include a round table meeting with senior management from INGOs and UN agencies responding to the flood emergency as well as a lessons learned event for middle managers to share challenges and successes of quality and accountability.
CWS-P/A Response
CWS-P/A has distributed a total of 9,392 food packages amounting to 1,315 tons.
The distribution of food packages benefits 91,200 individuals. The distribution of 2,500 NFIs has taken place; completed and planned NFI distribution reaches 75,500 individuals. CWS-P/A plans to provide an additional 3,000 families with food and non-food items in Sukkur and Thatta. The organization is also planning for early recovery assistance through meeting health and livelihood needs. CWS-P/A identifies three early recovery Construction Trade Training Centers, similar to the initiative developed for recovery of the 2005 earthquake which will help build the capacity within communities for reconstruction. Without resources, farmers and owners of small shops will face a longer period of food insecurity. Similar to its food security initiative for IDPs, CWS-P/A plans to initiate cash for work, vouchers, and cash grants to help reestablish agricultural livelihood.
In the province of Khyber Pakhtunkhwa, CWS-P/A continues its health efforts by providing preventive and curative treatment for flood affected families. At present 3 mobile health units are operational providing services in the districts of Swat, Kohistan, and Mansehra. Two additional mobile health units are planned in Khairpur and Sukkur in Sindh. A total of 7,885 consultations have taken place in these districts while the health teams have also conducted 208 health education sessions with 2,191 participants on issues related to personal hygiene, HIV & AIDS, skin infections, safe drinking water, sanitation, and local endemic diseases.
Contacts
Allan A. Calma
Deputy Director
Disaster Management Program
allan@cwspa.org.pk
Cell: +92 301 5801621
Muhammad Fazil
Associate Director
Emergencies/DRR/Climate Change
fazil@cwspa.org.pk
Cell: +92 332 5586134
Kelli Siddiqui
Head of Communication
ksiddiqui@cwspa.org.pk
Cell: +92 302 5156273