Setting the Equation for Peace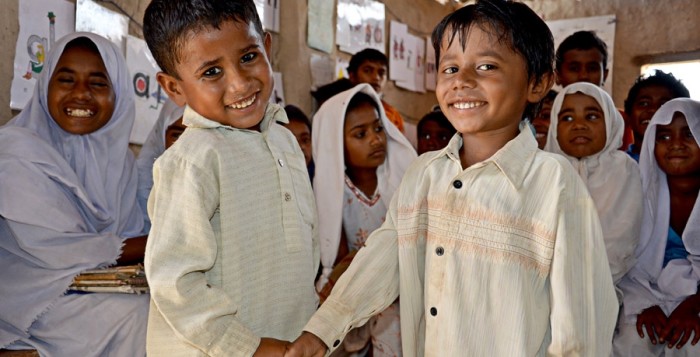 This year's Global Peace Index positions Pakistan at 146 out of 153 countries around the world. While neighboring Afghanistan ranks worse at 150. In 2010, Pakistan was positioned at 145 out of 149 countries and Afghanistan at 147. The scores are based on indicators including crime, terrorism, government, democracy, and respect for human rights.
In Pakistan, where a vast majority wants to live in peace, the current trends make such wants hard to imagine. The answer may be simple, more peaceful living means more people-to-people contact in spreading messages of peace, harmony, tolerance, and rights based approaches for strengthening communal development. However, this should not be a surprise. This approach has been part of the vision of civil society, community based organizations, and I/NGOs including Church World Service-Pakistan/Afghanistan. The applications of Do No Harm principles and orientation workshops to Local Capacities for Peace have been incorporated by CWS-P/A to effectively provide humanitarian assistance. With the commencement of CWS-P/A's peace education intervention in 2007, schools in many rural communities in Sindh benefit from the organization's publications on the subject. In 2010 alone, 1,000 additional peace workbooks were printed for students while the capacities of twenty educators and five managers of civil society organizations were built to promote peace education.
At the same time, teachers benefit from the peace manual which not only assists in imparting peace education but functions to develop the critical thinking skills of students with widened perspectives on analyzing solutions. During the year, an additional thirty teachers from Mirpurkhas, Tando Allah Yar, and Hyderabad also participated in a three days orientation workshop on the peace manual and workbook.
Five students from Mohammad Archar Khaskhelly Primary School located in Tando Allah Yar are members of their school created peace committee. Among them is Summiya who shared that after school hours she still promotes peace by resolving arguments between friends on the playground and at her home between her brothers. Eleven students in this primary school have been given peace workbooks but all forty students in the class participate in lectures on peace education.
CWS-P/A's project staff recognize the need to have more books distributed to schools and hope more schools readily accept it as part of their curriculum. However, challenges remain in a country with sky-rocketing inflation and more schools wanting to focus on the national curriculum. There is no doubt that peace curriculum makes a difference that goes beyond the classrooms and playgrounds.
In a highly politicized area of Karachi with severe crimes, a fourteen year old student, Hassan Bin Sibli, is learning peace education and shares, "It is because of peace education I have changed. I am the cricket team captain and do not allow any players to fight." This, however, is not the only way Hassan applies his peace education knowledge. The boy shared, "My mother left the house for almost six months due to misunderstandings between my parents. I tried to convince my father to get her back especially because my younger brother missed her a lot. It took much time for my father to understand as he kept telling me that I am young and should remain quiet. Through the education, I have understood the concept of living in peace, my thinking has changed, and I take care of my family, while also making sure that I know I have to support them."
The seeds for more peaceful living are being planted in the country's highly volatile environment. Cultivating this knowledge is necessary to sustain a culture of peace which transcends beyond borders thereby promoting human dignity and welfare at the most crucial times.