Security Risk Management Workshops Conducted in Asia, Africa, and the Middle East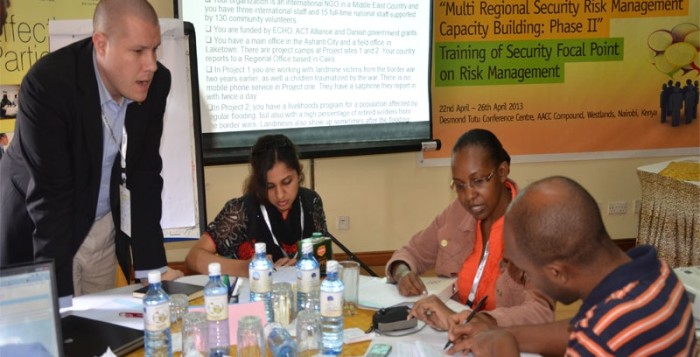 In partnership with DanChurchAid (DCA) and with support from the Humanitarian Aid Department of the European Commission, Church World Service-Asia/Pacific (CWS-A/P) initiated the Multi Regional Security Risk Management Capacity Building Phase II Project. Based on the solid experiences gained in 2010-2011 as a result of the preceding phase, "Developing Risk Management Awareness and Security Protocols for Humanitarian Organizations," this project endeavors to maintain emergency response capacity and continuity of operations through strengthening of skills and expertise in security risk management. This project aims to build awareness and capacity of security focal points of international, national, and community-based organizations in Africa, Asia, and the Middle East, particularly ECHO FPA holders and members of the ACT Alliance.
Between January and May 2013, a total of 152 individuals participated in a series of six, five-day workshops held in Thailand, Ethiopia, Jordan, Kenya, Turkey, and Nepal. Participants shared best practices and experiences to strengthen institutional integration of security and risk management in their organization. The development of a security risk management plan is an integral part of the process, and the training helped participants understand the components of a plan as well as the influencing factors that feed into its development. Participants also learned how to enable the management and staff to control risk through a systematic approach and on how to adequately mitigate the risks from diverse kinds of threats such as carjacking, road safety, kidnapping, and robbery.
In addition to training, a network of informed security focal points is envisioned, where influence to develop a culture of security extends beyond the individual organization to a wider network of humanitarian partners. This unique security workshop emphasized the link between security risk management and organizational development. To fully institutionalize security practices and effectively implement security guidelines within an organization, every individual must be aware of their responsibilities toward risk management and ownership over their own security. The project will continue to provide technical assistance to participants in order to build their capacity to apply what they have learned and institutionalize security and risk management in their organizations.
This initiative aims to reach over 35,000 aid workers through several different activities: training of security focal points; integration of security management in organizational development; development short-term security plans; and information sharing through e-updates and e-newsletters. A multi regional conference on risk management will be held later this year to share research findings, security management trends, and challenges.