Security Risk Management: Common Ground for Humanitarians in Africa, Asia, and the Middle East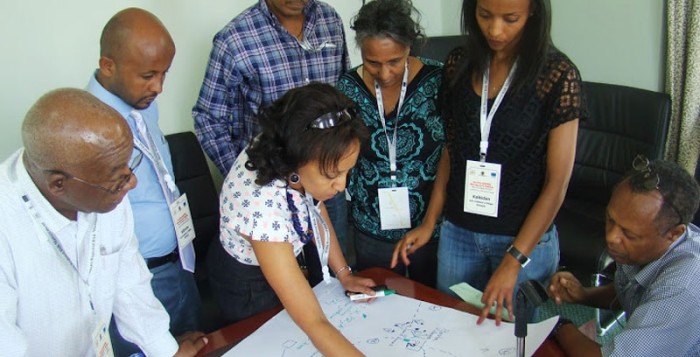 Security Risk Management is an ever-increasing issue for humanitarian organizations. In Africa, Asia, and the Middle East, the contexts are vast; however, a connection between humanitarian action and security is universal.
Church World Service Asia-Pacific (CWS-A/P) in partnership with DanChurchAid (DCA) is implementing a capacity building initiative that increases awareness and access to the knowledge and tools necessary for organizations to develop a culture of security. More than 150 individuals representing organizations from 33 countries in Africa, Asia, and the Middle East engaged in training activities, exercises, and information and experience sharing. One of the technical aspects of the learning focused on the development of organizational short-term and long-term security plans. Another concept shared through training, technical support, and regular e-updates and e-newsletters was the importance of recognizing that security is everyone's responsibility. Security risk management is not an isolated aspect of an organization; to be effective, it must be integrated with organizational development—another key message shared through the capacity building initiative.
Humanitarian organizations can learn from each other and contribute greatly to the global effort to reduce risks and ensure security for humanitarian action and aid workers. For the first time, CWS-A/P in partnership with DCA with support from the European Commission for Humanitarian Aid and Civil Protection is organizing a multi regional conference in Nairobi, Kenya from October 7-9, 2013.
Registrations are currently open for "Global Conference on the Role of Security Risk Management in Effective Humanitarian Aid." The conference aims to engage a diverse representation from the humanitarian and development community in order to exchange information and knowledge, seek ways to strengthen safety, security and risk management, share best practices to create a secured environment for aid workers, and explore strategies to address future challenges.
The conference platform offers a great opportunity for participants to learn from guest speakers on a variety of issues related to security risk management and to attend thematic sessions led by highly specialized persons who have the technical expertise, knowledge, and experience. It will also be an excellent forum for networking with humanitarians from across the three regions.
To register for the conference, please follow the link to access the online application form. http://www.cwspa.org/rrmnsl/confreg.php More details about the conference can be accessed at
http://www.cwspa.org/rrmnsl/issue03/index.php/component/k2/item/128-global-conference-on-the-role-of-security-risk-management-in-effective-humanitarian-aid