Refresher Course to Promote Peace and More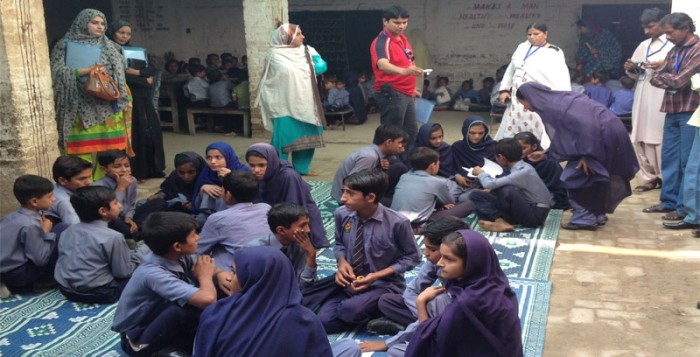 CWS-P/A engages students, youth groups, teachers, and the community at large through activities that promote Local Capacities for Peace (LCP) and Do No Harm (DNH) concepts. An overall aim is to create an environment which is conducive for peace, tolerance, and harmony. To gauge the impact of the effectiveness of LCP and DNH activities, CWS-P/A continues to engage in follow-ups and refresher courses as part of its approach to raise awareness on religious freedom, peace, harmony, and conflict resolution. Students, youth groups, and teachers across Pakistan have been sensitized on LCP and DNH through a range of activities.
In Punjab, fourteen teachers participated in a refresher course on LCP and DNH principles. The teachers from Sindh were part of CWS-P/A's training in 2012 during which manuals on peace and Do No Harm were introduced.
During the recently held refresher course, the teachers participated in an exposure visit to a school in Kasur, Punjab Province. They were able to observe the learning, activities, and role-play by students in classes seven and eight. The exposure visit included a trip to a shrine and the Ganda Sing border with the aim of strengthening peace and interfaith harmony.
At the refresher course, teachers participated in activities which helped revise chapters from the Do No Harm manual. They also shared their successes and challenges in the implementation of the peace manual and group work during the training resolved the challenges they faced. Discussions and visual materials helped participants to further strengthen their understanding on LCP and DNH principles.
In the coming year, additional teachers from Punjab will receive an orientation on the Do No Harm curriculum and pedagogical skills. The teachers will travel to Sindh in another exposure visit and a youth camp will be held to raise awareness among students on LCP and DNH.
CWS-P/A appreciates the financial assistance from Bread for the World which continues to build the capacities of communities in Pakistan and Afghanistan.