Recovery: Supporting Families with Income Generation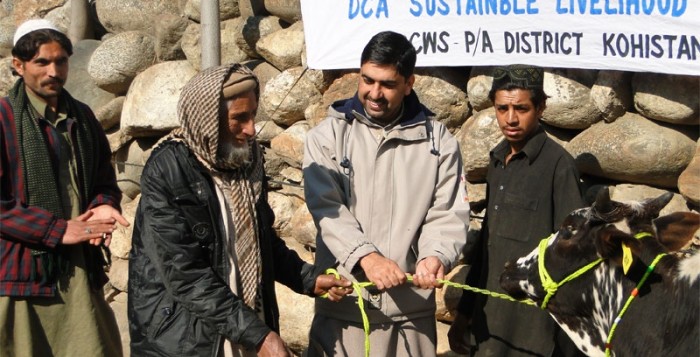 After the country's worst flooding in 2010, CWS-P/A has been working to bring sustainable recovery initiatives to affected families. The organization noted that families often lacked necessary resources to restock lost animals, while a lack of awareness coupled with a shortage of the market availability of animals made income earning opportunities difficult for these poor families. In the province of Khyber Pakhtunkhwa, 180 families in Kohistan District benefited from a recent distribution of livestock restocking and 500 household members have acquired skills on raising livestock.
Based on a well conducted needs assessment, CWS-P/A's field team prioritized the selection of female headed households, households with minimum assets and resources, people with disabilities, and orphan headed households. Additionally taking into consideration the geography of the district, the Achai cow breed was ideally determined for restocking. Prior to distribution, the animals were dewormed and vaccinated. To ensure fairness and transparency in distribution community members who qualified for the distribution received their animals through a draw scheme.
CWS-P/A's field staff shared that the process was appreciated by the community at all levels. As the intervention focused its distribution and training intervention to facilitate families in income earning activities, regular progress reviews and learning sessions with field teams and village committees will be conducted. Being committed to quality assistance in service delivery, CWS-P/A's livelihoods project in Kohistan promotes community participation and accountability. Furthermore, complaints handling mechanisms have been established in implementation areas to comply with CWS-P/A's standards in accountability in humanitarian response.