Realizing a Child's Potential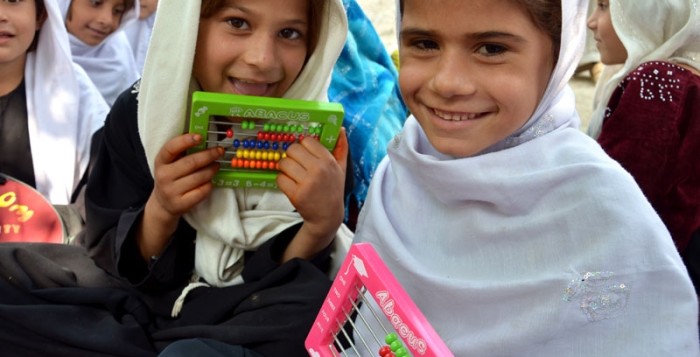 "By virtue of being born to humanity, every human being has a right to the development and fulfillment of his potentialities as a human being." Ashley Montagu
November 20 marks Universal Children's Day, a day that signifies international togetherness and awareness among children while promoting their welfare and rights all over the world. As some institutions and governments around the world commit to channel resources toward child development and progress, countries including Pakistan and Afghanistan experience low enrollment in schools and a high prevalence of child labor. With the rising scale of disasters and increasing poverty and food prices, children face a greater level of vulnerability in both countries. Laws regarding employment of children need to be enforced more effectively while awareness on the value of education and negative impacts of child labor must be raised with parents, thus, empowering them to make informed decisions regarding their children's development and role in the family. Although progress is taking place, more needs to be done to ensure all children access their rights and develop to their full potential.
Statistics for Pakistan reveal that the ratio of improvement in literacy between 2007 and 2011 was lower than the earlier period of 2002 and 2006. Approximately, 30% of Pakistanis complete secondary education and approximately 20% receive upper secondary education. For Afghanistan, the statistics indicate an adult literacy rate of only 28.09%. The Human Rights Commission of Pakistan estimated in 2005 that there are between 10 to 12 million child workers in Pakistan. In 2011, the number reported showed a nearly double figure of about 21 million child workers. For the same year, in Afghanistan, of the 8.4 million children ages 17 and under, 1.2 million work.
The conditions under which children work vary in both countries so it is important to highlight the main concerns of hazardous working conditions and complete substitution of education for work. Aside from being a signatory to the United Nations' Declaration on the Rights of the Child and the Convention on the Rights of the Child, Pakistan has laws in place to protect children. In Pakistan, the 1991 Employment of Children Act defines the types of work children, who are defined to be under age 15, cannot engage in due to health and other hazard risks as well as the maximum number of hours a child can work. Afghanistan is also a signatory to the Convention on the Rights of the Child and has laws in place. Unfortunately, the ability to widely enforce the laws is lacking in both countries. Therefore, millions of children remain vulnerable to illegal labor, trafficking, and abuse.
On the other side, children are also vulnerable to extreme poverty. The result frequently includes working to help support the family and doing so by abandoning education. Some parents make the conscious decision to have their children work instead of attend school since they can earn more if they spend more time working. Children who attend school are forced to drop out when their family's economic situation deteriorates, as is seen following disasters or the death of a father. Without other visible options, a child must take responsibility to earn income in order to ensure their family's survival. Otherwise, they may go hungry. From an outside point of view, it seems obvious that education can lead to a more sustainable future and can bring a family out of extreme poverty. However, when parents are unsure of how their children will eat, it is difficult to look forward to their lives in the future. In addition to raising awareness among poor communities, alternatives which address the causes of poverty must be presented in order for families to pursue their children's education and other developmental potential.
With such distressing numbers pertaining to the conditions in Pakistan and Afghanistan, a stance must be taken to allocate resources for children's education, development, and progress. With cultural restrictions on women, it is imperative to emphasize the inclusion of girls and how they have equal rights to the boy child. Through years of work humanitarian agencies including CWS-P/A continue to promote education and health initiatives for children which ensure mental, physical, social, and emotional growth. These include raising awareness on the importance of education, improving teachers' capacity, and supporting construction of schools. Other social or economic development initiatives also have a positive influence on children's development such as improving decision making and income earning potential of women through cash grants, skills training, and self-help savings groups. Feedback from women who benefit from these types of initiatives frequently includes their happiness to have the means to send their children to school and to pay for sufficient food or health needs.
The government also plays an important role in protecting and encouraging positive child development. It is responsible for ensuring the quality of education standards as well as enforcing laws such as those related to child labor. In Pakistan, government schools have minimal fees and textbooks are provided free through primary school (5th grade). Unfortunately, the costs of education are still out of reach for the poorest families. Incentives such as free education, subsidized books at higher levels, and free lunches could possibly increase the number of parents who decide to send their children to school. Even if a majority of those children still engage in some work, as long as that work is according to the laws, the longer term benefits would include better income earning potential for the children once they reach adulthood.
Although a multitude of efforts are made by humanitarians, activists, government departments, teachers, and individuals, much more needs to be done to improve the status and protection of rights of children, particularly for girls in Pakistan and Afghanistan. Reports state that the education of girls enhances maternal and child nutrition, lowers mortality rates, curtails diseases, and reduces birth rates. By protecting and helping children realize their potential, both countries will experience a sustainable improvement in social development especially related to education and health. Currently, the figures speak for themselves. Both countries rank poorly in education and health statistics. However, visiting a rural community in Afghanistan where a girl describes her experience of attending school for the first time and dreams of becoming a doctor shows progress is slowly being made. The same stems from a visit to rural Pakistan where a mother describes her new, small business that she operates from home and how her children now attend school in the morning and help in the fields in the afternoon. Positive change is occurring, and in order for it to become widespread and sustainable, more resources must be invested in the social sectors and efforts to reduce poverty must be substantial.
On Universal Children's Day, special appreciation should be given to the governments, organizations, and individuals working for child protection, child rights, and child development. At the same time, support should be extended to parents who choose change despite the realities of poverty, cultural restrictions, and uncertainty. They are the real heroes of children's development. Encouragement and recognition must also be given to children who in the face of life's obstacles work hard, dream, and prepare for a better future.