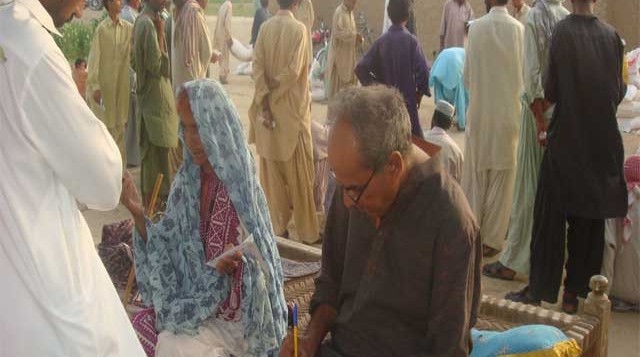 DERA MURAD JAMALI, NASEERABAD DISTRICT, PAKISTAN: Rabi Canal in fertile Dera Murad Jamali was split from Pat Feedar Canal in 1990 to irrigate agricultural land in several villages in Dera Murad Jamali. The canal saved standing crops in a miraculous way.
The gushing water hit the embankment of Rabi Canal with great velocity and made cleavages in twenty-five places. As a result, the canal started flowing, and standing crops on one side of the canal were saved. Of course not all crops were saved. Some villages were totally devastated.
"The flood came at about 4:00 a.m. We were caught unaware. Everything we owned was swept away," said Habibullah Bugti. His national identity card indicates he was born in 1974 but there is no date or month in the card. "We had stored wheat for the entire year. We also had seeds for next year's crop. We lost everything," he said.
It is called Rabi Canal because it ensures availability of water for Rabi (spring harvest) crops in many villages of Dera Murad Jamali. Rabi crops include wheat, jawar (sorghum), mustard, onion, tomato, and til (sesame seed). The floodwater came with menacing velocity from Barkhan and Kohlu areas that are located at great height. However, the cleavages in Rabi Canal minimized destruction to a great extent.
The floodwater could also have damaged the railway tract, national highway, and Ucch Power Plant, but diversion of gushing water saved the infrastructure. It also brought silt with it that will enrich soil in the long run. However, at the moment many peasants are suffering.
"The landlord has left this place. If floodwater evaporates or is soaked by the soil, I will grow wheat, but if water does not evaporate, what will I give to the landlord?" asked Bugti. The cultivation here is done under the basis of share-cropping. Half of the harvest goes to the landlord while the rest is kept by the peasant.
"It's ill fate. The landlord belongs to the Jamali tribe. He has not gone too far," he said while sitting on the ground in a village called Amanullah Goth. Bugti received a food package through CWS-P/A's distribution containing 80 kg flour, 400 kg rice, 5 liters of cooking oil, 8kg pulses, 4 kg sugar, 400 grams of tea, and 1 kg salt. "This assistance will help us for a month or so," he said.
From Ghaffar Bugti Village, Mohammad Hussain Brohi, aged thirty-five says, "I have eight family members. My eldest son is sixteen years old. My children study in a mosque-school." Hussain also received CWS-P/A's food package. He wondered about the opportunity to thank those who sent him the goods.
Mai Subhahi, aged fifty-five, sat nearby on a wooden jute bed. She looks much older than her age and has cataract. "I can't see what is being given to me," she said. "I have a nine member family. My husband is too old and cannot work," she said in a very depressed voice.
CWS-P/A has been working to ensure that the most vulnerable families receive assistance. This is carried out through needs-based assessment and selection processes throughout the flood affected provinces of Khyber Pakhtunkwa, Balochistan, and Sindh. Continuing distribution of food and non-food items benefits thousands of individuals. The organization also provides families with medical assistance and consultations. Medical teams continue to conduct education awareness session to improve the well-being of communities affected by the floods.