Quality Education beyond the Classroom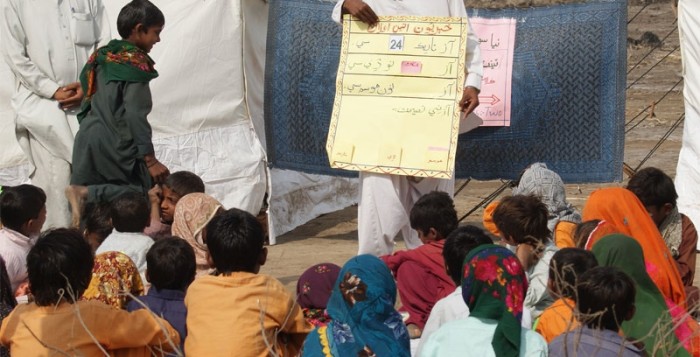 As CWS-P/A continues to focus on promoting quality education, the organization's Transformational Learning and Development (TL&D) project works to improve the classroom environment for students. During a recent follow-up visit to schools in Sindh, the project staff noted the utilization of early childhood education (ECE) kits by teachers who attended ECE training significantly helps to engage students.
Kasumbi, a teacher from Mirpurkhas District, shared that with the incorporation of the ECE training she has been involving family members in classroom activities. She describe that she invited a student's father who is a gardener by profession to teach about the planting process. The teacher distinctly mentioned that the children in addition to learning the growing process of fruits and vegetables were also able to make connections regarding the involvement of their parents in learning. She also described the ECE kits as providing the students with motivation toward creativity which the school could otherwise not afford or arrange.
However, for another teacher, Arjun, the ECE training was applied beyond the classroom. When floods destroyed his school's infrastructure, he began teaching at a camp. He emphasized that he was able to create a classroom environment in the camp by using the supplies provided by CWS-P/A.
The provision of the ECE kits, which contained items such as stationery, schedule charts, and a wall clock, proved to be added support for the teacher training aspect of the initiative. CWS-P/A continues to equip teachers with the skills and tools to turn their classrooms into a child-centered environment. These initiatives are helping students in rural areas of Pakistan and Afghanistan gain access to better education which motivates them toward success and a brighter future.