Quality and Accountability for the Floods and Beyond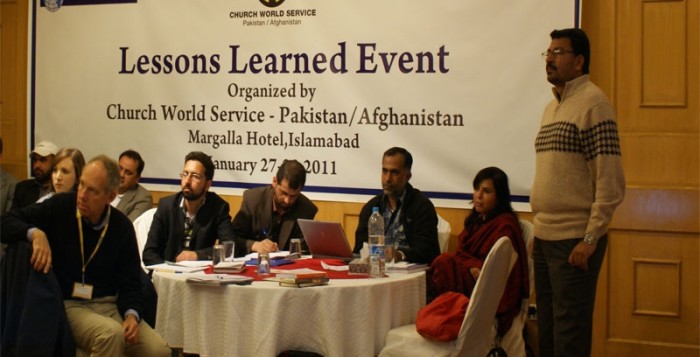 A growing network of international and local NGOs are committing to international standards for quality and accountability for disaster response. Faced with challenges of slow or underfunding, committed organizations used their own resources to practically apply quality and accountability standards so that flood-affected communities were served with dignity, provided opportunity for participation and decision making, and provided access to complaint mechanisms. Just after the sixth month anniversary of the onset of floods, more than forty-eight representatives met in Islamabad at a workshop hosted by CWS-P/A to discuss accomplishments, challenges, and lessons learned with respect to quality and accountability. The discussions and output from the workshop provide insight into the current level of and ways to continue to improve quality and accountability in disaster response in Pakistan.
The level of quality and accountability is geographically inconsistent within Pakistan. Gaps exist between the four provinces because of varying experience with quality and accountability standards and cultural norms; therefore, it is difficult to characterize the national level of quality and accountability. The northern areas, which were affected by the 2005 earthquake, have organizations and communities that are accustomed to certain levels of quality and accountability standards because they were sensitized on Sphere, Humanitarian Accountability Partnership, and the general importance of serving with dignity. In Sindh, many of the organizations experienced Sphere and HAP for the first time during the flood response. However, there is an upward trend in all provinces related to organizational commitment toward quality and accountability. Throughout Pakistan, quality and accountability is spreading through trickle-down effects from larger NGOs to implementing partners to smaller community-based organizations. Outreach continues to grow rapidly through word of mouth and increased capacity building opportunities in the humanitarian sector.  The lessons learned workshop provided an opportunity for organizations with varying levels of experience with quality and accountability to send representatives. Zulfiqar Shah, Executive Director of the Institute for Social Movements Pakistan, founded the organization just before the floods hit Pakistan; through word of mouth, he heard about HAP following which he accessed the HAP website and also contacted CWS-P/A. When asked about the value of knowledge of Sphere and HAP in the early stages of the organization, he said, "There are already a lot of inbuilt mechanisms in our organization, but in the context of disasters, organizations need these quality and accountability tools." As more organizations become sensitized on principles and start incorporating standards, the national degree of quality and accountability with improve.
Additional gaps exist between and even within provinces due to differing cultural norms in communities. In the northern areas, stricter levels of segregation exist as compared to Sindh. It is much more challenging to incorporate quality and accountability standards when equal participation from women is difficult and in some cases impossible. During discussion following a workshop session, one participant asked, "How were you able to communicate with women in Kohistan?" Kohistan, located in Khyber Pakhtunkhwa Province, is extremely rigid where women rarely leave their homes. The presenter explained that they began implementing Sphere standards slowly: first through water quality testing and proper space for latrines, which was challenging when proper space for housing is uncommon in the area. After working with communities and coordinating with the Kohistan health department, the organization hired two female health department workers who were from nearby district and through them began communicating with women.  The key to accessing women or overcoming other challenges is by following the basic principle of quality and accountability, to serve communities with dignity. In Pakistan, this often means taking a slow approach, initiating communication through local elders or community leaders, and following standards according to local context without compromising commitment to quality and accountability principles. As community trust and confidence is earned, organizations find creative ways to incorporate quality and accountability standards within the diverse regions of Pakistan.
The workshop focused on experience sharing with respect to Sphere and HAP; six organizations, including CWS-P/A, facilitated sessions on specific quality and accountability topics followed by group work and discussion. Representatives from organizations experienced in implementing quality and accountability as well as organizations just starting to incorporate these standards attended the event which allowed for varying views and experiences as well as good networking and coordination between organizations from all provinces in Pakistan. Lessons learned, capacity building, and coordination will help raise the national standard for quality and accountability.
Several outcomes from the workshop present opportunities to continue improving quality and accountability in Pakistan. Committed organizations must build the capacity of local partners while strengthening the process of mainstreaming quality and accountability within their organizations. Coordination will remain essential for knowledge sharing as well as advocating for commitment to standards such as Sphere and HAP by the government and humanitarian agencies. One of the challenges is a lack of funding resources for implementation and monitoring; however, sensitization of senior management and the donor community will help in increasing the importance given to quality and accountability. Aside from commitment, follow-up and continuation of quality and accountability initiatives must continue so appropriate mechanisms and networks are in place and organizations are prepared to deal with future disasters.
The Sphere and HAP standards make a difference in the lives of disaster-affected people throughout the world because they address basic human rights and dignity and are adaptable to the local context. The most important aspect of improving quality and accountability is to understand that it is an ongoing process that requires continuous effort and review. The growing commitment in Pakistan parallels a similar global trend. Sphere and HAP have both recently revised their standards based on experiences and feedback from regional platforms; the new HAP 2010 Standard is available and a revised Sphere handbook will be available in April 2011. Maria Kiani, HAP Roving Representative, who recently spent one month in Pakistan to provide support to HAP members and interested organizations, attended the lessons learned workshop. She emphasized that there is strong commitment within Pakistan to strengthen implementation of accountability and quality standards, which is reflected by a number of efforts and good practices that have been initiated such as improved information sharing and setting up of complaints systems so that beneficiaries can have their concerns addressed. It is important for the humanitarian community to continue to share learning and challenges so that collective efforts can result in greater quality and accountability during the ongoing response.