Quality and Accountability for Project Cycle Management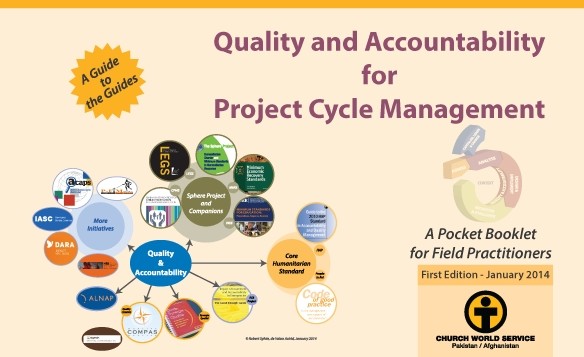 As part of Church World Service-Pakistan/Afghanistan's (CWS-P/A) long-term commitment to enhance quality and accountability in humanitarian and development interventions, a booklet on Quality and Accountability for Project Cycle Management was launched recently. The authors of the booklet are Sylvie Robert and Astrid de Valon whose indepth research methodology have made it very user friendly.
The booklet is unique as it helps navigate a variety of Q&A initiatives and tools in a user-friendly and practical manner. There was a need for the booklet as there are now around 71 various Q&A initiatives world over, which make the task of practitioners very overwhelming in choosing appropriate tools during a project cycle.
The aim of the booklet is to ensure quality and accountability of affected populations at each stage of an intervention and contribute to CWS-P/As efforts of promoting Q&A amongst the humanitarian and development sector. It also aims at informing about international efforts on harmonization of Q&A initiatives.
This booklet provides a practical roadmap to project cycle management and underlines how to incorporate Q&A right from the designing stage, highlighting which tools are available at each stage of the project life cycle. It aims at supporting practical implementation of Q&A ensuring awareness raising and knowledge sharing. It has been designed specifically for field practitioner/s who are managing humanitarian and/or development projects and are keen to improve Q&A towards communities. The booklet, which will also serve as a field guide employs a rights based approach.
It is composed of three main parts, including synthesized explanations and concrete examples of tools.
Part A – Operating Context highlights three fundamental aspects that field practitioners need to take into account: key humanitarian principles, the need to adapt the quality and accountability tools to the local context where the interventions take place, and the crucial opportunity to strengthen the resilience of affected communities.
Part B – Common Quality and Accountability Tools suggest key questions that field practitioners should ask themselves to guide projects' implementation and mainstream two main sets of transversal tools throughout their projects: core quality and accountability standards and cross-cutting issues.
Part C – Quality and Accountability Tools for Project Cycle Management provide concrete and straightforward guidance with specific examples of tools to implement quality and accountability at each phase of the project.
A section titled 'More Resources' provides additional content to explore further some tools.
Translated versions of Urdu, Dari and French will be available soon. CWS-P/A would encourage translations in other languages, providing CWS-P/A is acknowledged as the publisher and authors are acknowledged.
To order:
In order to purchase a printed copy of the booklet please email at: shaprograms@cwspa.org.pk.
The cost of the booklet is US$ 10 or PKR 1,000/- excluding bank transfer and postal charges.