Protecting Children and Ensuring their Rights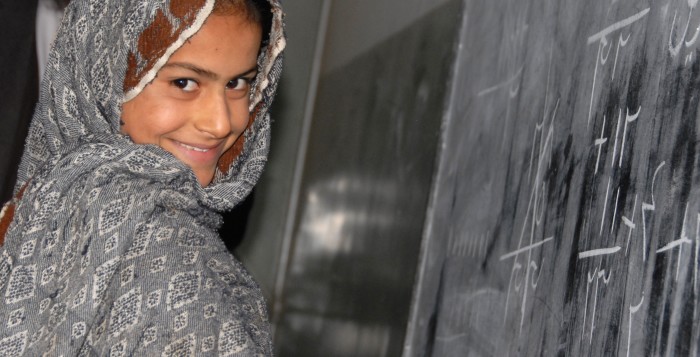 Too often when the topic of child rights is discussed in Pakistan and Afghanistan, the focus is on violations and how each country fails to provide safe environment and equal rights to its millions of children. The unfortunate side to this discussion is facts of child labor, early marriages, violence, and trafficking. However, there is another side to this story; thousands of organizations and individuals work every day to help protect Pakistan's and Afghanistan's children and improve their quality of life.

Universal Children's Day is an opportunity to commemorate efforts to bring the young generation together in peace and understanding and to encourage positive steps to bringing equality and improved quality of life for children who do not always experience the rights they deserve. It is a day for reflection on the Declaration of the Rights of the Child and the Convention on the Rights of the Child; what has been done and what more needs to be achieved.
Considering the global picture, child rights is an immense topic, but when the life of an individual child is examined, the picture is very clearly defined. Either that child has access to all human and child rights or denied some or all rights. When we add all the children together from an individual country, we can measure how much that county adheres to the aforementioned Declaration and Convention. Perhaps, the famous words of Dietrich Bonhoeffer summarize this idea, "The test of the morality of a society is what it does for its children."
Achieving and enforcing the first principle of the Declaration, "Every child, without any exception whatsoever, shall be entitled to these rights, without distinction or discrimination on account of race, color, sex, language, religion, political or other opinion, national or social origin, property, birth or other status, whether of himself or of his family," is a process. Every step in the right direction, even if for one or few individual children, is a noteworthy accomplishment. Humanitarian organizations, including CWS-P/A, believe in protecting the rights of children and providing means to a better life. Efforts such as providing pre and postnatal care to pregnant women, building a school and encouraging girls' enrollment, providing relief to a child affected by disaster, and providing a child's education and a daily, healthy meal in order to keep that child away from child labor are only a few examples.
Raising awareness within communities about child rights, gender equality, health and hygiene, peace, and interfaith harmony often makes life changing differences and is an effective way of gearing mindsets toward developing a community that believes and works for all human and child rights. Many positive examples exist; here is one story of how raising awareness brings positive changes in rural communities of Pakistan's Sindh Province.
Ramesh, a fifth grade student from Tando Allah Yar Village in Sindh, enjoys going to school and shares a large part of his learning with his parents who were not as privileged as he is. His parents appreciate the fact that he is acquiring knowledge on peace and more significantly at an early stage of his academic years. Ramesh shares, "One day I returned from school and as usual began a discussion with my parents on 'Peace and Harmony' while stressing on learning to live in peace with each other. My brother was rather agitated about my constant talks on the importance of peace. He said, 'There can never be peace in Pakistan so there really is no point in talking about it.'" Though a bit disappointed with his brother's opinion, Ramesh replied, "We can make Pakistan a peaceful country because we are the future generation." Ramesh learned about peace at his school, where his teacher adopted peace education into the curriculum after attending a session by CWS-P/A and receiving a peace manual and student workbook. Ramesh adds, "I have learned to solve conflicts from the workbook which has many examples. Just recently, during a game of cricket, I was able to prevent a fight between two batsmen. I told them we need to continue the game rather than waste time fighting, let us give the player another chance and select an empire." Ramesh has learned a life skill which he will take with him much farther than the cricket field.
Peace education is only one example, but it relates to several principles in the Declaration. It particularly relates to two excerpts from the seventh and tenth principles, "He shall be given an education which will promote his general culture and enable him, on a basis of equal opportunity, to develop his abilities, his individual judgment, and his sense of moral and social responsibility, and to become a useful member of society," and "He shall be brought up in a spirit of understanding, tolerance, friendship among peoples, peace and universal brotherhood, and in full consciousness that his energy and talents should be devoted to the service of his fellow men." Embracing these small yet significant steps is what Universal Children's Day celebrates. However, it must not overshadow how much more needs to be done so that millions of children not only in Pakistan and Afghanistan but the rest of the world experience a healthy, happy, and complete childhood and experience a life of dignity based on child rights.
Both Pakistan and Afghanistan have laws to protect child rights and are signatories to various international agreements including the Convention on the Rights of the Child. However, much more practical application and efforts are required for either country to improve the quality and equality of the life of its children. Whether an issue in a government assembly or at the kitchen table of a family home, addressing child rights is never wrong. The costs are often high, especially for countries whose populations face extreme poverty, rising prices, inadequate education systems, and repeated conflict and natural disasters; however, the price of not protecting the future is much higher. In the words of Frederick Douglass, "It is easier to build strong children than to repair broken men."