Promoting School Safety and Disaster Preparedness in Swat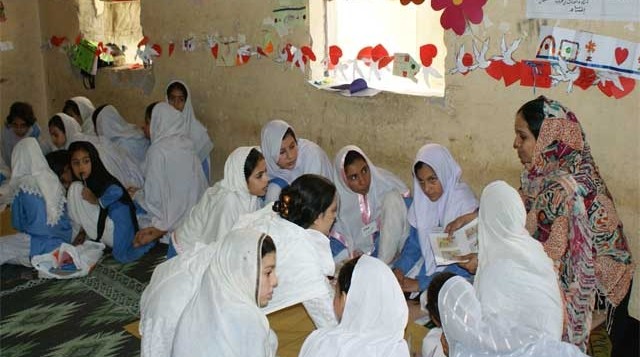 "The students are more confident now; they did not interact much with each other previously and were afraid of their teachers," shares Mehnaz Begum, Social Mobilizer for CWS-P/A, during her assistance at a session on "Cooperative Learning" with female students in Swat. Approximately fifty girls participated in this two-day session which is part of CWS-P/A's post-conflict rehabilitation initiative in Swat District, Khyber Pakhtunkhwa Province. The initiative involves several aspects including student and teacher capacity building, school reconstruction, and promoting school safety and disaster preparedness.
During the session in mid-October, students learned concepts of child rights, gender, peace education, and participated in group activities on disasters and school safety. Participants were shown a documentary on school safety and took part in evacuation drills.
"It was back in February 2008 when the school was attacked. Winter break was going on at that time but when school resumed many girls left," says Deedar Begum, a teacher at the school with twelve years of experience. She recalls, "My class dropout rate at that time was over sixty percent. Parents are still fearful about sending their girls to school because of all that has happened throughout the years."
However, the fear is not only among parents but also teachers; Mehnaz Begum says, "In my discussion with one teacher, I got to know she feared that the building could collapse." Living in an uncertain environment, especially spending six hours a day in a damaged building, undoubtedly instills fear among teachers and students.
"Through this session, I see the girls are happy. They willingly participated in the activities and as teachers we have learned how to incorporate practical learning in our teaching," shares Deedar Begum.
Additionally, three hundred seventy-four school kits containing notebooks and stationery were distributed to female students. Thus far, a total of three thousand kits have been provided to students who require these items as they proceed with their day-to-day learning and schooling.
During one-day training sessions teachers also benefited from handling emergency situations, drafting school safety plans, and understanding disasters and appropriate safety measures. Main local area emergency contact numbers and details were provided to teachers and students.
CWS-P/A recognizes that these types of initiatives do not remain solely in the classroom. There will be a trickle-down effect throughout the communities. By spreading these messages of preparedness and safety, many lives can be saved in the event of future disasters or even minor safety incidents whether in school or at home.