Promoting Quality and Enhancing Accountability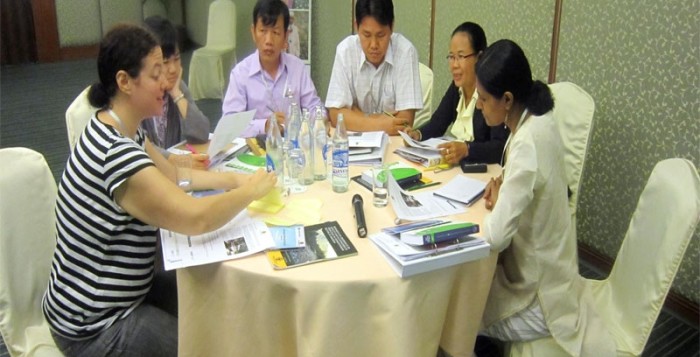 As part of CWS-P/A's role in assisting to promote Sphere initiatives in Asia, for the first time a Sphere Focal Point Forum in collaboration with Sphere Office Geneva was conducted in September 2011. Adhering to its role, CWS-P/A also recently offered a three-day training titled 'Quality and Accountability Management Training: Introduction to Sphere and HAP standards.'
With a diverse diverse group of 13 women and 11 men from organizations operating in 8 countries (Bangladesh, Cambodia, Japan, Myanmar, Pakistan, Philippines, Thailand, and Vietnam) the training adopted a participatory and interactive approach. These of which included presentations, arts and craft, experience sharing, video presentation, debate, role-play, and group exercises to the international standards of HAP and Sphere.
Facilitators ensured that from the level of healthy competition and laughter participants welcomed the innovative learning methodologies. A detailed case study was provided to help participants work on a practical example of how to apply the learning from the first two days. The training concluded with a summary of the overall program and learning goals with participants providing their future action plans on how they would continue to work toward implementing their learning into their organization's activities.
While the forum and training serve as a platform for agencies to share their challenges and learning, CWS-P/A believes that common collaboration at country and regional levels are a way forward. One participant shared, "Sphere in our country has been in fact inculcating quite a lot due to the multiple disasters that we have had. However, what we have seen is that it has not been institutionalized. It is seen as different product which needs to come out during an emergency phase, but this forum actually helps us to understand that the need for institutionalization and also to be prepared and provide the people their rights to live in dignity during disaster and follow up thereafter. So, I feel that it should not be only in country but it has to be promoted within the region that we can share experiences and then broad base Sphere in all aspects."
CWS-P/A has a role as the Sphere country focal point for Pakistan and a role as the Sphere regional partner in Asia. As it has for more than five years, the organization continues to train, provide technical assistance, and advocate for national and regional initiatives that improve the quality and enhance accountability of humanitarian response. The success of these recent initiatives indicate that progress in raising awareness and capacity related to Sphere and HAP is occurring throughout the Asia region. It also encourages CWS-P/A and other organizations committed to these standards to work harder so that Asian communities frequently afflicted by disaster are served in the most accountable way.