Press Release: CWS-P/A Launches Sphere in Urdu and Q&A Workbook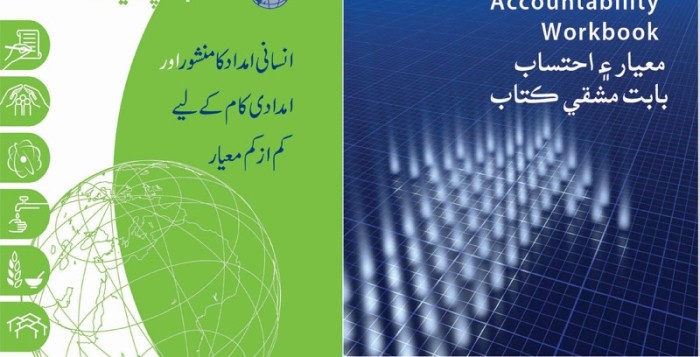 A launching ceremony for the Sphere Handbook (2011) in Urdu and a Q&A Workbook in Sindhi will be held on June 27, 2012 at Indus Hotel, Hyderabad. CWS-P/A's Strengthening Humanitarian Assistance Program (SHA) views the translation of the Sphere Handbook as an important guide for NGOs operating in Pakistan as it actively promotes quality and accountability in the region.
Furthermore the launch of the Q&A Workbook is a distinctive initiative containing an introduction to Sphere, HAP Standard in Accountability and Quality Management, and People in Aid Code of Good Practice. The Workbook also contains Q&A best practices, Red Cross and Red Crescent Movement Code of Conduct, and CWS-P/A's Complaint Response Mechanism (CRM).
During the ceremony, CWS-P/A will also introduce Pakistan's first mobile knowledge resource center (MKRC), which has been operational in Sindh Province since January 2012. Additionally the ceremony will mark the first meeting of the sub-Accountability Learning and Working Group (ALWG). The establishment of the sub-ALWG will facilitate the promotion and support of quality and accountability in humanitarian response and development activities. Moreover, it will allow for greater coordination of aid work and provide a platform to address challenges on quality and accountability.
The organization invites representatives from NGOs/INGOs to participate in the launch event as it works to strengthen humanitarian response and promote standards of quality and accountability across Pakistan.
For more information, please contact shaprograms@cwspa.org.pk