Panel Discussion Emphasizes More Accountability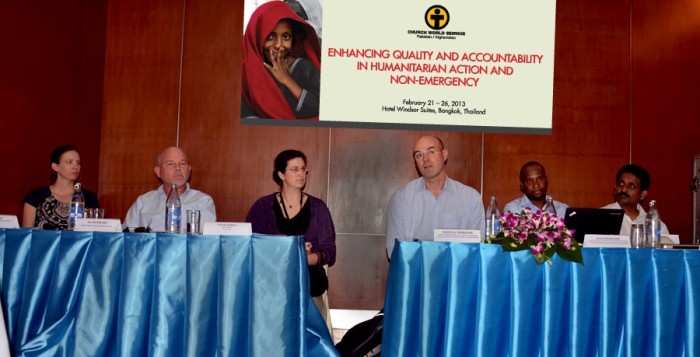 A panel discussion took place on February 22, 2013 at an ongoing CWS-P/A regional training, 'Enhancing Quality and Accountability in Humanitarian Action and Non-Emergency' in Bangkok, Thailand. Twenty-eight participants and five guest speakers were part of the panel discussion. The panelists included David Verboom (European Commission for Humanitarian Aid), Souleyman Sow (CARE), Anoop Sukumaran (Asia Pacific Refugee Rights Network), and Alan Dwyer and Erin Mcgee (USAID/OFDA). The discussion was moderated by facilitator, Sylvie Robert as key questions were raised about joint standards and its relationship with joint compliance and certification.
The panelists were in agreement of quality and accountability initiatives and emphasized its need. Moreover, the emergence of larger numbers of humanitarian agencies was stressed with the need to self regulate. Participants at the training raised questions about accessing donor funding with meeting criteria and the resources invested in certification.
As the discussion concluded, an emphasis was placed on remaining accountable to communities, working with communities and learning from them, and disseminating knowledge and building capacities.