Pakistan: New Small-Scale Displacements, Critical Need for Livelihood Assistance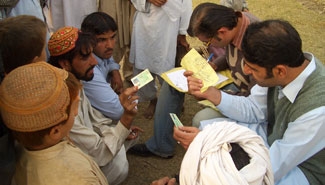 As hundreds of thousands of Pakistanis remain displaced throughout the winter, ongoing smaller-scale military operations against militant groups continue to uproot new families forcing them to seek refuge in relatively more secure areas.
Currently, some 135,000 people are displaced in the districts of Kohat and Hangu from military operations in the Orakzai Agency of the Federally Administered Tribal Areas (FATA). In the districts of Dera Ismael Khan and Tank, approximately 280,000 people continue to seek refuge with host families or in their winter accommodations after being displaced late last year from the military campaign against militant groups in South Waziristan (UN Office for the Coordination of Humanitarian Affairs).
And while the Pakistani capital of Islamabad has been relatively secure the past few weeks, security challenges have increased for humanitarian organizations beginning recovery operations in Swat, where millions returned during the second half of last year. A suicide blast last week in Mingora, the largest city in Swat, forced many aid groups, including CWS-P/A, to temporarily close their offices and pause recovery assistance as a further precaution. In addition, unannounced road closures and numerous checkpoint searches in Swat have further slowed down humanitarian operations.
Outside of the North West Frontier Province (NWFP), four Pakistani staff of an international non-governmental organization were abducted with their vehicle in the province of Balochistan. There have been no further reports on their whereabouts or status.
Swat: Critical Need for Livelihood Assistance
In Swat, 95 percent of the millions who were massively displaced during last year's summer military operation have returned home. Through its own assessments in Swat, CWS-P/A has found that the most critical need for hundreds of thousands of families is livelihood recovery. Health interventions are also greatly needed both for those who stayed and those who returned just before winter.
While some in Swat were dependent on tourism for their livelihoods, tourism is significantly less likely to be revived in the near future given the ongoing security concerns. Agricultural and fruit production support remains the best intervention to help vulnerable families recover.
In addition, the economic situation in Swat before the military campaign was also complicated by the presence of the Taliban. And now with the current price inflation in local markets, every commodity has become increasingly expensive. For poor families, much-needed agricultural inputs, fertilizer, and tools are inaccessible.
CWS-P/A is prioritizing agricultural and food security interventions for highly vulnerable families in Swat, where districts are declared accessible by the military. Cash grant assistance is also much needed in order to give families the opportunity to prioritize what they need, whether it is food, agricultural inputs, or other household needs after returning home. In addition, an influx of cash grants and not just distributions would do much to restore the local economy in Swat.
A small number of families, who were originally displaced from Swat and now remain in host communities in Mardan and Swabi, lack the resources necessary to return and re-establish their homes. However, with most displaced having returned home to Swat, there are now more opportunities for daily wage labourer work for this small number of displaced who have stayed.
Ongoing Displacements
While some surge military operations in South Waziristan do continue, media reports suggest that the South Waziristan operation is mostly over. However, approximately 280,000 people chose to remain displaced in Dera Ismael Khan and Tank throughout the winter season, rather than return home due to concerns about security. Humanitarian support, including non-food items and water and sanitation, remains an urgent need.
In Hangu and Kohat, the approximately 135,000 people who are presently displaced also require ongoing humanitarian support. In other areas, both in NWFP and FATA, there are spontaneous displacements where small numbers of people seek safety in from fighting.
In addition, there are small numbers of families who are caught in between various displacement situations. Some families that fled too late to be able to register with authorities are not able to qualify to receive government-coordinated assistance. Other highly vulnerable families – including female-headed households, the elderly, and those who are disabled – also can have difficulty accessing assistance in both new and older displacement situations.
Current CWS-P/A Interventions
Non-food item (NFI) distributions for 1,000 internally displaced families living with host communities in Dera Ismael Khan (funded by World Vision International)
Emergency water and sanitation assistance for 1,000 internally displaced families living with host communities in Dera Ismael Khan (funded by Concern Worldwide / OFDA)
Primary health care for 40,200 people in Swat (returnees and stayees) and Swabi (IDPs and host communities) (funded by DanChurchAid / ECHO)
Food security assistance for 2,000 small-scale farmers and landless households (funded by DanChurchAid / ECHO)
Additional assistance in the areas of food security, health, education, and emergency response are currently be planned and proposed to donors.