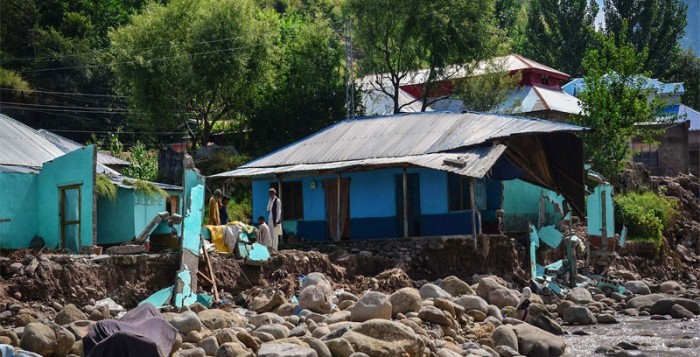 In early September, heavy monsoon rainfall resulted in widespread damage in various districts across Punjab. At the same time, heavy downpours coupled with landslides contributed to colossal destruction in Azad Kashmir. Recent updates from the National Disaster Management Authority (NDMA) recorded 2.53 million people affected, 367 deaths, and 673 injuries owing to the devastating floods. In Sindh, over 65,000 evacuations helped families in the katcha areas while 267 villages were reported to be affected. Overall losses to the country's economy are estimated by the ministries of national food security and research, finance, and some economic experts to be 14-15 million USD.
This table represents other losses that occurred in Khyber Pakhtunkhwa, Azad Kashmir, Punjab, and Sindh:
| | | | | |
| --- | --- | --- | --- | --- |
| Houses damaged | Villages affected | Crops affected (acres) | Cattle perished | Shops destroyed |
| 107,102 | 4,065 | 2.412 million | 9,722 | 229 |
As rains and landslides continued to create havoc in parts of Azad Kashmir, CWS-P/A swiftly reached affected areas to assess the situation. In Bagh District, an immediate week-long response was initiated to meet health needs that benefited 793 people with medical consultations and free medicines. Women benefited from ante and postnatal care, and children under five received age appropriate specialized care such as vaccination. Additionally, health teams conducted health education sessions to raise awareness among affected communities.
An immediate distribution of food assistance and non-food items also benefited 424 families (3,138 individuals) in Bagh District and Haveli District located in Azad Kashmir. The distribution is based on Sphere standards and fulfills the requirements of an average family size of 7 -8 members. This has been funded through ACT Alliance members: United Methodist Committee on Relief (UMCOR), Christian Aid (CA), and Primate's World Relief and Development Fund (PWRDF). Presently, assessments are underway for food distribution to 565 families in Sudhnoti District. The distribution is scheduled to take place within the next five days and is made possible through support from DanChurchAid (DCA) and The Beautiful Store.
Recently, the full ACT Appeal was launched. Within the appeal, CWS-P/A aims to assists 2,924 families with food and non-food items for two months, 400 shelter kits, and 4,000 families with health assistance. This assistance will benefit families in six districts of Azad Kashmir and two districts of Punjab.
In Sindh, CWS-P/A assisted the communities it already works with to stay prepared in the case of possible floods. The organization's mobile knowledge resource center (MKRC) travelled to rural communities and spread awareness regarding the situation. Communities also prepared evacuation plans and kept their emergency bags ready as part of their preparedness response.
CWS-P/A appeals to the humanitarian community for assistance to the flood-affected population in Pakistan. The affected communities are in dire need of support ahead of the winter months. Stagnant water remains in many areas, and an increase in respiratory infections, diarrhea, and scabies is occurring. Many families still reside in temporary shelters and camps with very less food, clothing, and clean water. The financial contribution will help ease the distress the families are presently facing and provide hope towards normalcy for which many await.
Source: http://www.ndma.gov.pk/new/Documents/sitrep-12-10-14.pdf