Our Troubles are Still a Lot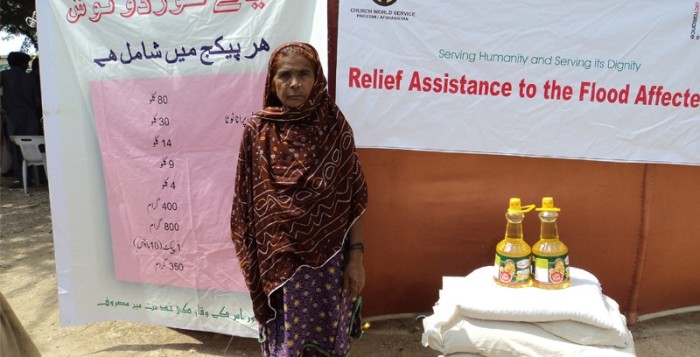 THATTA DISTRICT, SINDH, PAKISTAN: Floods this year again have created havoc and particularly for the communities residing in Mohammad Khan, Mirpurkhas, Tharparkar, Tando Allah Yar, Matyari, Badin, and Thatta districts. The catastrophe is undeniably a severe blow to the affected communities in Sindh Province, and the plight that survivors face is shared by Sakina, a fifty-five year of old woman.

"My name is Sakina, and I have been living in Bhaloo Kholi Village before the floods. When the floodwaters approached our village, with our ten children, my husband and I had to leave. There is still between three and four feet of water and our house has been severely damaged including all our belongings. Our livestock died; we had nothing left to eat and were very short of food.
"We finally have received food when Church World Service-Pakistan/Afghanistan (CWS-P/A), along with the team from Participatory Village Development Programme (PVDP) distributed it. The food will last us for a month and this has definitely helped in reducing our worries. One of my other worries was also the kitchen utensils that I lost because they were all washed away in the floodwater. At least, I also do not have to worry about it. The non-food items distribution has provided me with kitchen items and mosquito net, all part of the NFI kit.
"Our troubles are still a lot. I have not been well and recently discovered I have malaria which began with three days of continuous fever and flu. We do not have doctors here and cannot afford medicines. At this point, the entire village needs a doctor and health-care facility."
As hundreds of survivors continue to reside in makeshift tents, camps, and government buildings, their concerns exhibit visible hardships and a call for essential assistance. In Thatta District, CWS-P/A recently completed its distribution to 1,000 families of nonfood items. Included in these were kitchen sets, hygiene kits, mosquito nets, and sleeping mats among other items. During the next week, CWS-P/A plans to begin its distribution of food items for 2,000 affected families in Mirpurkhas and Umerkot. Affected families in addition will also benefit from a distribution of NFI kits and 375 shelter kits.
With people remaining in dire need of immediate assistance, including Sakina's call for medical aid, much responsibility lies with the humanitarian community to ensure this timely response. Unquestionably, this will prevent the loss of additional lives and reduce human suffering across affected districts in Sindh.
---
Story Collected by: Doney Angelo, PVDP Staff