Online Discussion with OCHA on Floods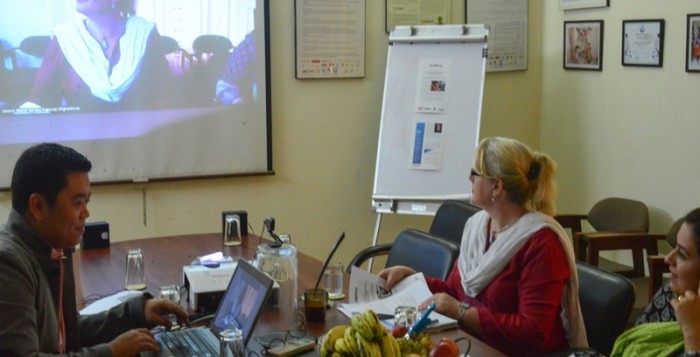 On October 14, 2014, the ACT Pakistan Forum members, Church World Service-Pakistan/Afghanistan and Norwegian Church Aid, facilitated an online discussion with Annette Hearns, Deputy Head of Office, UNOCHA. The first of its kind, this online discussion organized at CWS-P/A's Islamabad Office, enabled ACT members worldwide to hear firsthand the post-flood situation and ask questions.
Ms. Hearns described the situation as it stood a month after floods devastated parts of Azad Kashmir, Gilgit-Baltistan, Punjab, and Sindh provinces. Describing the different needs in various provinces and underlying differences such as levels of preparedness and existing vulnerabilities, she expressed how great the needs are despite marked improvement in the implementation of early warning systems. She was pleased to announce that the Multi-Sector Initial Rapid Assessment had finally been approved by the Government. According to the MIRA report, conducted in Punjab, a majority of the relief needs were being covered; however, recovery efforts are critical. She also reported that the government has requested UNDP to conduct a recovery needs assessment and the World Bank and Asian Development Bank to conduct a damage needs assessment.
The donor community has not extended much support to relief efforts, mainly in anticipation of a formal request for assistance. A couple of weeks prior to this online discussion, the Minister of Finance addressed leadership in the diplomatic community, essentially indicating that the international community should help in identifying a mechanism to support disaster recovery.
Despite a lack of any further request by the government for relief assistance, clear indication for relief and recovery needs exist. Requests by provincial governments were, however, responded to by UNOCHA, when and wherever possible. Ms. Hearns further appreciated the value and timeliness of NGOs' response such as assisting during the relocation process, providing blankets, food, and water, and transporting the elderly, disabled, and mothers with newborn babies. The government has also initiated the distribution of compensation packages to relatives of the deceased, families which lost homes, and the injured.
Current needs are different in the North as opposed to Punjab and Sindh and unfortunately, the impact of these floods can be traced back to pre-existing development issues. In the North, the impact is actually higher because the losses to property were greater due to the sudden nature of the floods. Needs include winterization, shelter, and WASH along with health. In Punjab, many people began recovery such as rebuilding their homes, health centers, and schools; however, the sustainability of these efforts need support. Stagnant water adds to the public health concern, thus, leaving WASH along with health as a dire need. Food security is a major concern, particularly for recovery and long-term impact. Strengthening of the early warning system and enhancing its strengths is also high priority.
The event ended with a final question on challenges during this response. If underlying issues such as the flawed water management system are not addressed, flood impact will remain an issue year after year. Access is a challenge, particularly in areas where snowfall and other environmental factors will make them inaccessible. However, funding to ensure a timely response still remains the major challenge in ensuring that the population recovers as quickly as possible and returns to the developmental path.