Murky Flood Waters: The Cause for Dispersing Families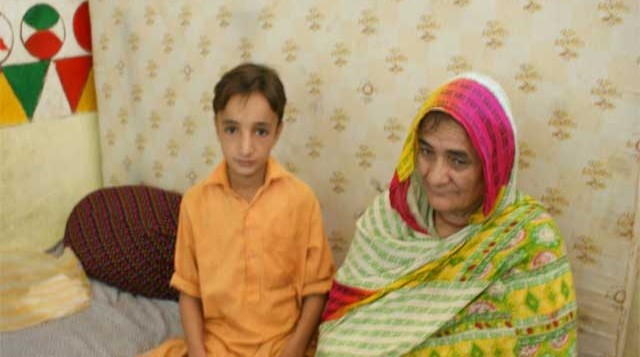 SHANGLA, PAKISTAN: Royan Bibi, a fifty year old woman from Dubair Nala located in Shangla, lost everything when destructive floodwaters washed away her house and thirteen others at the end of July. She now resides with her thirty-five year old daughter, Gulbha, and her family that lives on the opposite of the Hunza River.
"We are a big family; I have my four daughters-in-law living with me and owned a six room house. Now my daughters-in-law have all left to live with their parents," shares Royan Bibi. "My family plans to rent a house in either Battagram or Mansehra which will be expensive."
Royan Bibi and her family members have received medical assistance from CWS-P/A's mobile health unit operating in Shangla. Her daughter has voluntarily offered a room in her house for female medical treatment through the mobile health unit. Women from surrounding villages come and gather at Gulbha's house to get medical assistance from the lady health worker.
"My husband is old and cannot work. These days he has an eye infection. We depend on the money that my sons earn from doing skilled labor including masonry and plumbing. The rent in the city will be as much as Rupees 6,000 (US $ 71) and will be difficult to pay," says Royan Bibi.
Not a single day passes without her thinking about her house and the fact that the floods have caused her family to disperse. "I tell her not to worry; what has happened cannot be changed," says Gulbha. "My mother is not totally comfortable living in my house and wants a place of her own."
Royan Bibi's son-in-law, Waleed Khan, says, "We offered our house for female mobile health services because we understand that people have many problems. Most common are skin and eye infections among both adults and children." He shares, "My house is not big enough to accommodate my wife's entire family. Almost all fourteen houses in Dubair Colony that were destroyed by the floods had many rooms."
There are millions of people at this time who remain without shelter and other basic necessities. Many worry about changing temperatures, rising food prices, joblessness, and have health concerns. Through CWS-P/A's flood emergency response, flood affected communities in Khyber Pakhtunkhwa, Balochistan, and Sindh are assisted through food packages, non-food items, and medical care. The organization is planning for early recovery steps to restore communities back to normalcy. These interventions include community participation as a vital tool for capacity building and skills training.