More Yield and more Income in Balakot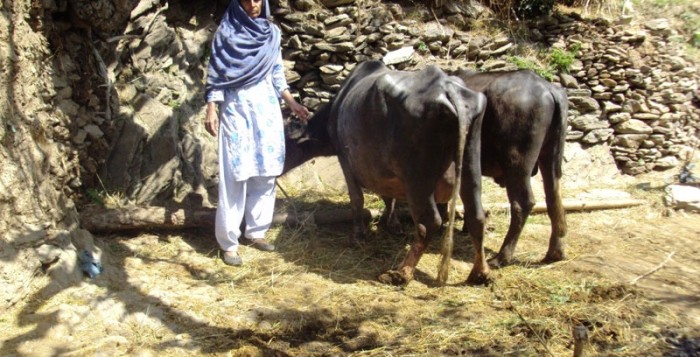 "The milk we get from our livestock is sufficient for our household needs. I give the excess milk production to the local dairy business group (DBG) and the amount I earn is spent on meeting the needs of my children at school," shared Zeenat Bibi, a mother of six children who resides in Dana Jagir Village. Four of her children attend school. As a member of the DBG she said, "We have knowledge on savings scheme and this helps us to prepare for the future. I do save some amount of money as well. I will spend this for my daughter's wedding ceremony."
In Manshera District, Khyber Pakhtunkhwa Province, CWS-P/A has continued to work with earthquake affected female heads of households. Over several years, the distribution of livestock, the establishment of a model dairy farm, and training on livestock management and dairy production have helped women increase their incomes. By late 2011, project activities focused on joint marketing, which is further increasing incomes. As many as 1,363 families received livestock during the initial stage of the project; however, the training and capacity building aspects benefit 1630families from the area. Organized into DBGs, 400 women will benefit with approximately 30% increased income from milk production. Moreover, the project paves the way for women like Zeenat to improve the lives of their families in the aftermath of the widespread destruction caused by the 2005 earthquake.
During March and April in Balakot Tehsil, 3,619 animals were dewormed and over 500 women benefited from capacity building sessions. These included sessions on basic livestock management, feed and fodder, animal health management, and dairy product development. "Our livestock has been vaccinated and dewormed, and it was done without us having to pay for this. Our animals are healthy which is also helping in the increment of milk yield," shared Zeenat.
Zeenat and other women benefiting from the project have nearly no assets. "The only asset we have is our livestock. We were not aware that we could earn by improving our livestock management practices." Now, these women are very much aware and capable of supporting their families, and the power they have working together enhances the future sustainability of their achievements.