More Attention to Health in Sindh is needed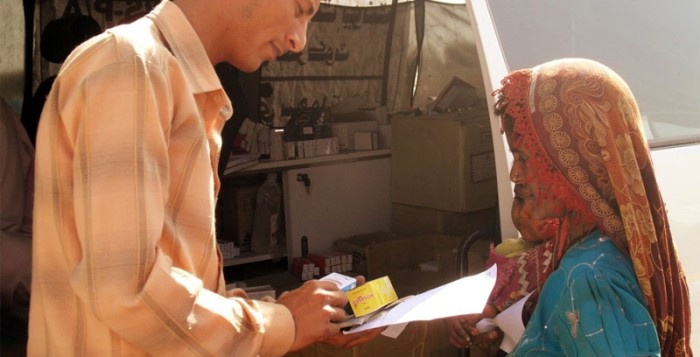 CWS-P/A's emergency health services for flood-affected families in the districts of Mirpurkhas and Umerkot continue to provide assistance to remote communities. Moreover, the intervention also provides health awareness and education which works to reduce the rate of morbidity and mortality often caused by a lack of proper health education and awareness.
From December 2011 to March 2012, as many as 1,397 health sessions were conducted which reached over 31,000 community members. A total of 68,409 medical consultations were reported during this period and 2,556 women received antenatal care.
Through mobile health services, communities are receiving the essential care they need. CWS-P/A's mobile health services are the only available services that are accessible by the most vulnerable and poorest communities. From Shahk Village located in the union council of Jawarisar, Mirpurkhas District, Khaloo is 72 and blind. She received medical assistance and shared, "There is no medical facility in this area and no other organization is working here for us."
Dr. Iffat Jehan working in the same district shares, "It takes us two hours to reach sites, and the road conditions are not good. We look at the miserable condition of communities and are happy to provide services especially when there is no other option for them."
These services will continue until the end of June and while communities still remain in need of health assistance, a doctor with CWS-P/A shares that waterborne diseases still remain prevalent as water sources remain disrupted. The doctor adds that acute respiratory infections, diarrhea, and skin diseases prevail.
Unfortunately, the communities with respect to health and other sectors have not recovered. If new and permanent rehabilitation of health facilities does not continue, the affected communities in Sindh will once again experience inaccessibility to health facilities. Under the current conditions, traveling 40 kilometers or more to receive health assistance will become normal again. In case of another devastating monsoon season, the lack of adequate, accessible facilities equipped with qualified staff and required medicines will result in a greater number of preventable casualties and suffering.