Monsoon Floods 2013: Relief Assistance in Sindh Province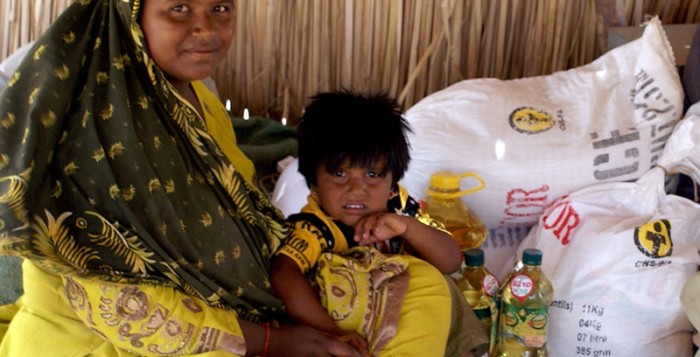 Across Pakistan between mid-July and August, monsoon rainfall triggered flash floods and breaches in irrigation canals as water levels increased in the Indus River. Consequently, according to the National Disaster Management Authority (NDMA), 1,496,800 people were affected and sources reported that nearly 200 people died and 1,100 were injured. More than 20,000 homes were completely destroyed and over 826,000 acres of crops were inundated by floodwater.
CWS-P/A monitored the situation and immediately began emergency response initiatives in the districts of Thatta and Jacobabad, Sindh Province. In Thatta District, the distribution of food packages helps 1,157 families meet their food requirements for a one-month period. In Jacobabad District, 2,000 families will receive one-month food packages for three consecutive months, with the initial distribution beginning around September 20. The contents of the food package comprise 120 kilograms of wheat flour, 14 kilograms of pulses, 9 liters of oil, 800 grams of salt, and a pack of matchboxes.
Between April and August 2013 in Jacobabad District, CWS-P/A worked to meet the health needs of families affected by the 2012 floods. The health activities include mobile health services, mobile laboratory testing, medicines, and health education sessions. Health support now continues through mid-October to further meet the needs of the communities affected during this year's monsoon rains and floods. CWS-P/A is in the process of providing 306 families non-food items and temporary shelter in Jacobabad District.
During a needs assessment and survey of affected villages in Thatta District, Imam Dino's family was selected to receive relief assistance. He expressed, "While facing these problems, CWS-P/A surveyed our village and it was like a spark of brightness among us and we felt that something is going to be good. After one day, CWS-P/A selected our family keeping in view our family's living condition and my disability. Then on the second day, the team came to our village and distributed food and a hope of living rose again in our heart."
The communities and CWS-P/A are grateful for the financial assistance from Canadian Foodgrains Bank through Presbyterian World Service and Development, DanChurchAid, Christian Aid, United Methodist Committee on Relief (UMCOR), and World Renew whose generosity and timely support made immediate assistance possible.
While immediate relief helps families overcome the initial challenges of survival in the first months following devastation, emphasis on mitigating the risks from frequent disasters and helping communities overcome the underlying reasons for poverty, marginalization, and vulnerability is integral for long-term development. CWS-P/A continues to work with communities in Thatta, Jacobabad, and other areas across Pakistan to promote the knowledge, resources, and ownership that will address these challenges.